Chocopologie Intern: Kimi Goldstein '14
Walking into Chocopologie, I was struck by the cozy, welcoming atmosphere.  Twinkling Christmas lights lined the front display windows and branches with green and red Christmas ornaments hung from the ceiling.  Tasteful vintage furniture and desks lined one wall; a sea-foam green coach with an old black trunk placed before it as a table was tucked in the back of the single room.  The mirror covering the back wall listed the day's confectionaries: chocolate covered pork rinds, seasonal bread pudding, molten chocolate cake, chocolate fondue to share, and lastly, a list of crepes; nutella banana and pumpkin apple caramel peaked my interest.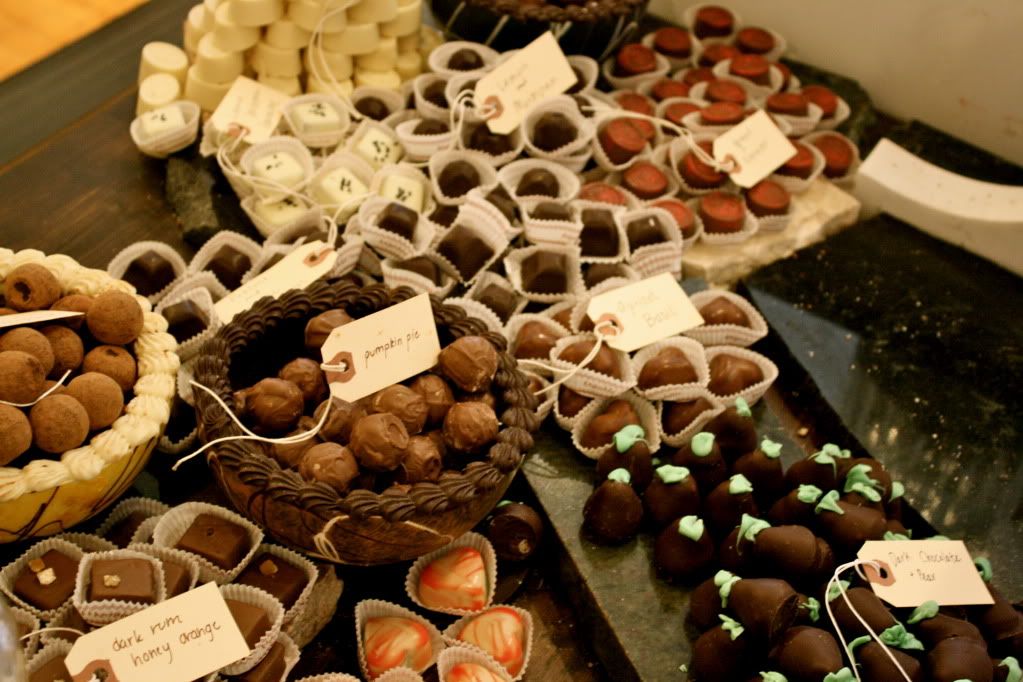 The smell was almost intolerable, in an amazing way.  Scents of chocolate, frosting, and warm baked goods fill up the shop.  Word of advice: don't go in hungry.  Or with your credit card.  On second thought, what better way to deal with the stress of finals?  Retail therapy at it's finest.
 
When I entered the shop, Kimi Goldstein, one of the six Yale interns chosen to learn the art of gourmet confectionary, was standing at the back counter.  She was wrapped in a dark gray smock and standing in front of a large silver mixing bowl heaping with cookie dough that was smattered with the biggest chocolate chips I had ever laid eyes on.  As we spoke, she methodically pinched off generous portions of the dough and rolled them between her palms.  
 
HC: What got you interested in this internship?
KG: Well, I mysteriously ended up on a Yale foodies panlist and received an email saying Chocopolgie was looking for interns.  I applied and didn't hear back right away, so I brought in my resume to the shop and Christian, the manager took a look at it and said I could begin the next week.
HC: I take it the resume was impressive then?
KG: I've worked at a pizza place and a cupcake place, and last summer I was a management intern at a high-end restaurant in Minnesota that served Nordic inspired cuisine.  Oh, and I worked at a Scandinavian bakery café my senior year of high school for our senior intern program.
HC: Wow, impressive.  Has baking always been an interest?
KG: I consider it more of a hobby.  For me, baking is like yoga.  It's a good distraction, therapeutic, and a way to relax.  Any occasion, birthday, holiday, break up, is an excuse for me to bake something for a friend.  My mom was also a professional pastry chef.  I grew up helping her in the kitchen.


HC: Is she still in business?
KG: No, she retired when she had kids.  She went to pastry school in Paris, and then came back to be head pastry chef at a restaurant in Manhattan.  She eventually opened her own catering business in Boston.
HC: Is this a potential career path for you, as well?
KG: Honestly, no.  Baking will always be something I love to do, and it will always be a part of my life, but I don't want the high stress and long hours that come with the job.  I like the therapy of it rather than the commercial aspect.
HC: Back to the internship, what do you do here when you come in?
KG: I come in every Wednesday afternoon, usually for 3 or 4 hours, and help out with whatever Christian (the adorable Danish manager) wants me to.
HC: What's the most challenging part of the internship?
KG: Not consuming everything in sight.  I'm only half joking.  But really, there is a steep learning curve and little guidance.  We are thrown in, but I guess that's the best way to learn.  Make chocolate chip cookies, here's the recipe, go.  Because everything we make is going to be sold, there is a narrow margin for error.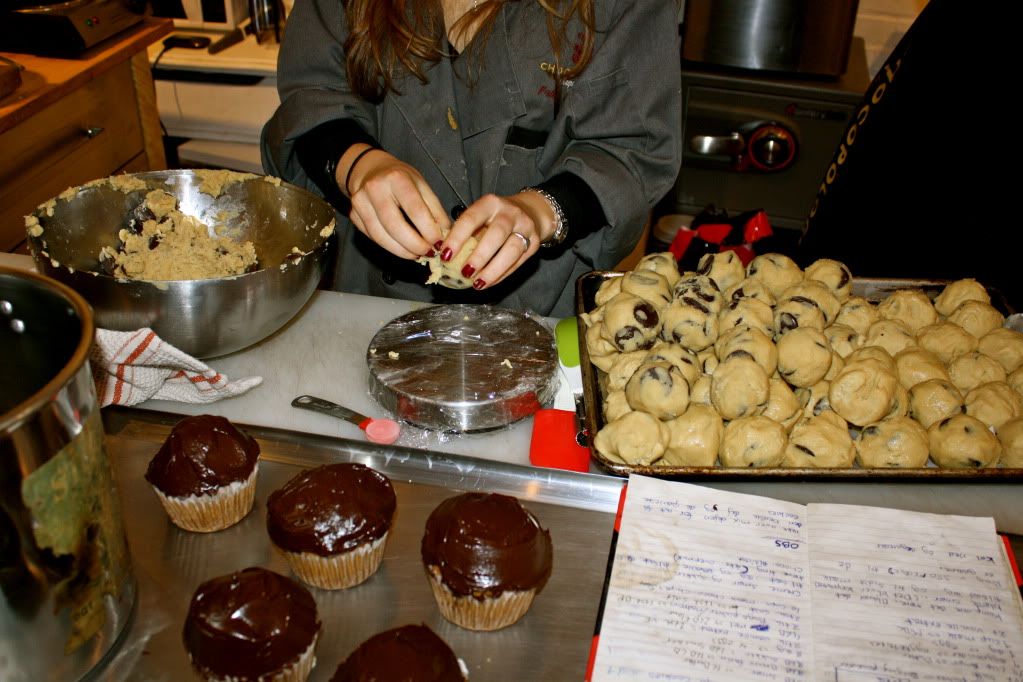 HC: What have you made so far?
KG: Hmm…. Last week we made raspberry filled vanilla cupcakes, chocolate cupcakes with peanut butter filling, pumpkin cranberry bread pudding.  Everything we make is a recipe of Christian or the owner, Fritz Knipschildt.  We make everything fresh to order, so a lot of times what we make depends on what we have commissioned or what we feel like making at the time.
HC: So Christian, you must have a lot of patience to work with six different interns.
C: I'm learning at the same time.  The best way to learn is to be kicked in and if you f*** things up, learn about your mistakes. And she knows what she's doing…. sort of. (He chuckles)

Of course, how can I complete a write up of Chocopologie without a critique of the chocolate?  I went for the truffles; dark chocolate pear and lemon marzipan.  I got them to go and I figured I would save them for a post-dinner treat.  I made it about three feet out the door before I ripped open the bag and placed an entire chocolate in my mouth… and I'm going to leave things at that.