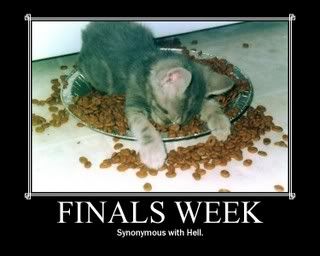 We have about three weeks before this semester quickly comes to an end. Everyone is scrambling to get their work done and beginning to stress about finals. I have started to hear the average end-of-the-semester chatter that permeates our dining halls, buses and weekend outings. "OMG, I have soooo much to do." "This month is going to be so stressful, I just don't know how I'm going to get it all done." "I'm going to be at the library for the rest of my life." (No, you're not.) "I have three back-to-back finals this year. It's the worst schedule ever!" The end of the semester is a time that every student thinks their classes and tests are harder, and their lives suck more than everyone else on this campus of over 30,000. I've compiled a list of things to do (and not to do) to keep you from punching yourself, your roommates and your professors this last month of school.
Drink coffee.Trust me, it's the only way to survive. However, don't drink so much that you're sitting in class and can't type notes because your hands are too shaky. Don't just rely on caffeine to get you through the day. Try to eat three meals, drink plenty of water and get enough sleep.
Take breaks.I know you think you don't have time, but trust me, 30 minutes isn't going to make or break your exam or projects grades. Take 30 minutes to go outside, watch your favorite television show or make dinner. If you don't take breaks you're going to go INSANE. Seriously.
Don't dwell on the fact that you're really busy.There is nothing more annoying than a person that thinks their life is so much harder than yours. Whenever your friends are venting about all the work they have to do, don't immediately interrupt and start talking about all the work YOUhave to do. They don't care! They just want to rant and get it off their chests. Don't compare how hard your major is with everyone else. It's annoying.
Remember that summer is just around the corner.You're so close and all of your work will get done. It gets done every semester, and this one will not be any different.
Take a moment to remember how lucky you are that the worst thing you have to worry about is a paper or test.Self-explanatory. At least you have the chance to go to college and be a Hokie. Remember how great your year has been and don't keep thinking about how stressed you are. Think about how much you love this school, and these last really tough few weeks won't matter.
Go to the gym or run outside.I know you think you don't have time, but you do. Trust me. No excuses. Just do it and you'll feel so much better.
Laugh.I can't stress this one enough. Get together with your friends, even if it's just for two hours, to get dinner and just be goofy.
You Might Also Like...