First Home Football Game of the Year v. South Carolina!
After what seems to have been a very long off-season, at least for football fans such as myself, the Vanderbilt Commodores will play the South Carolina Gamecocks at home this Thursday. Not only is this the first day for college football nation-wide, but we are also playing in the first game between two SEC opponents in the 2012-2013 season. It will actually be broadcasted on ESPN across the country, not just locally. This is HUGE for a team that has historically been called the "joke of the SEC," and it definitely proves that we are making great strides in football under the leadership of Coach James Franklin.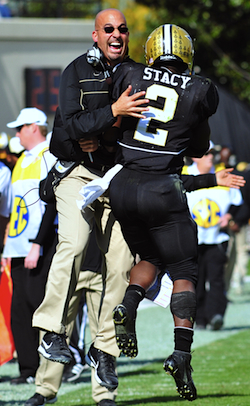 Now, I know that most of y'all typically do not attend football games, and I'm not saying this because my readers are (mostly) girls. At Vanderbilt, students typically tailgate all day, sleep during the game, and wake up after for round 2 of partying. This might seem like a fantastic idea for all of you avid party-goers, but I personally think that we need to change our school's idea of game attendance as completely optional. Why? Because tickets are free, every student can attend, we all love Vanderbilt, and THIS IS SEC FOOTBALL Y'ALL!!! Do you know how many students at other schools would kill to be able to see their team play every week? A lot. Coach Franklin is really trying to amp up student attendance at games, and as we continue to improve as a team, I think it's crucial that we as fans step up to the plate. We can all still tailgate AND cheer on our Dores at the game- there is room in the day for both. This is a new season, and it's time for a change in the average student's game day schedule!
My personal advice to get ready for Thursday- get your work done on Wednesday, because Thursday is going to be CRAZY. If you think you'll have time for work, you won't. Guaranteed. So attend your classes (even though most of your classmates will probably skip... don't do that!), wear your finest tailgate attire (AKA a cute dress, preferably in black and gold, and boots), and get ready to hit the frats at your first available hour. Then, at around 5:30PM, when all tailgates will officially end under the new rules, drag your butt to the stadium for kickoff at 6PM! And try not to leave at halftime- get yourself a delicious stadium pretzel or some caramel corn and stay until we all join together for the school song. Then feel free to rest for a bit and go out later to celebrate our first game, win or lose!
I am extremely excited to see our team this Thursday, and I hope you girls are, too!