Need advice? Then ask away! It's totally anonymous! http://bit.ly/HJ9sLC
---
How would you loosen the grasps of clingy people without being rude? Some are friends, some are acquaintances, and some are desperate (and you're not interested).
-Please Back Off
Dear Please Back Off,
As long as you're not dealing with someone like the clingy girlfriend meme then I hope my advice will suffice. Yes, sometimes clingy people just plain suck, and here are a few ways to approach the situation.
1) Clingy Friends
Friends are awesome but sometimes they become like crabs that won't open their claws and we find ourselves stuck in their relentless grasp. In order to get a breather you'll have to approach the situation carefully since you don't want to hurt anyone's feelings, you simply just need your space. Try having a chat with your friend about how they've been making you feel. Tell them that you love spending time with them but that you need to do your own things sometimes and that they shouldn't take it personally. Instead of hanging out every day, how about grabbing lunch together when you're free. Just make sure that your friend(s) know that you have other things going on in your life and that you'll spend time with them when you can.
2) Clingy Parents/Family Members
This is a much harder subject to approach, the clingy relative. Isn't there some expression that says that your parents smother you because they love you, or something like that. I feel like the best way to approach the situation is to tell your loved ones that you appreciate their love and care but that they're starting to resemble the dreaded helicopter parent/guardian. And no one wants to be labeled as one of those. Let them know that they should worry less, by reassuring them that you'll let them know of your plans. In order to console the clingy parent/relative, shoot them a quick text now and then telling them what you're up to and that you're safe. It's not that our loved ones don't want us to grow up or give us room to breathe, it's just that they worry about us. So why not relieve their tension from time to time. It will do both parties good.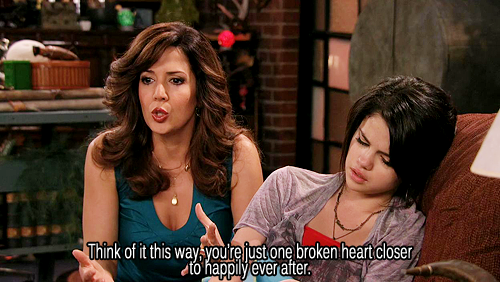 3) The Unrequited Lover Who Just Won't Take "No" for an Answer
It's a fact in life that we are going to come across many unwanted advances from guys and girls who sometimes can't take the hint. No means no, but some people don't bode well with rejection. In fact some might take your dis-interest with a grain of salt! If you find yourself in this situation there are few things you can do. Be honest, and tell them that you are simply not interested. Tell them that you care for them but not in the way that they want you to. And just like Alex's mother told her on Wizard's of Wizardly Place "think of it this way, you're just one broken heart closer to happily ever after."
You Might Also Like...