Let's not beat around the bush here: lots of students at UCR commute. 70% of the student body lives off-campus and walks, cycles, drives, rides, or skates to school. Whether you're 2 miles away or 20, commuting is an everyday thing and I've been a part of it for about a year now. In that time, I've learned some things, seen some stuff, and picked up some tricks of the trade. If you're new to campus and are planning on commuting this fall, here are my 5 biggest tips to help you survive the commute to UCR.
1. Get to campus early. Commuting means that you live off-campus, whether you're in a nearby apartment or living with your parents at home. Either way, you should always factor in travel time when you're planning your morning routine. If you're driving to campus, Lot 30 is the most popular parking lot because it's the biggest and closest to major freeways. Finding parking in Lot 30 is all sorts of ridiculous, though, especially if you come to campus after 10 AM when most of the spaces have already filled up. Avoid the headache by getting to school before 10 AM. Waking up early might stink, but not being able to find parking is even worse. Most students get to campus later in the day, and arriving early to lot 30 means that you'll be more likely to find an open spot without having to cut off other students or follow someone as they walk back to their car.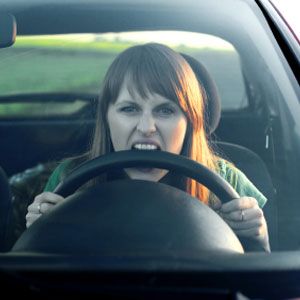 Steering wheel gnawing is a common side effect of trying to park in Lot 30.
2. Become a pro at time management. College life is busy. You're dealing with classes, internships, clubs, and a social life, and adding a daily commute on top of all that might seem close to impossible. It's not impossible. Stop worrying. As a commuter, you'll need to learn to manage your time well, especially if you want to get involved on campus and join a club (which you absolutely should do!). Buy a planner, grab some sticky notes, or do what I do and use your phone's calendar to remind yourself of any upcoming meetings and events you want to attend. With a physical reminder, you'll be able to plan your schedule around important things like advising sessions and weekly get-togethers.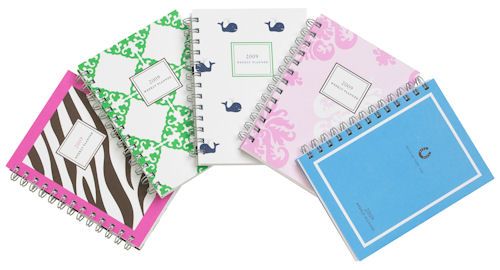 Stay organized, look adorable.
3. Use your resources. If you're driving, know which lots are available to you. If Lot 30 is filled or too far from your destination, then you can park in Lot 26 (up by Falkirk apartments), Lot 50 (behind the UCR Extension Center, across from the University Village), or in any non-reserved spaces after 4 PM. Transportation and Parking Services (TAPS) also offers a lot of
alternative transportation options
, including rideshare programs, vanpools, and cyclist/walking programs (plus incentives). You can also use the RTA bus system for free as a UCR student; just swipe your R'Card at the fare box.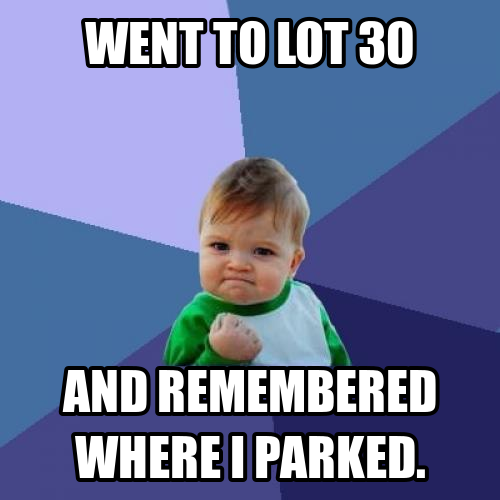 You, too, can be like Success Kid.
4. Leave on time. TAPS recommends arriving at least 30 minutes before your scheduled class so you
have time to walk to campus. A great way to get out of the house on time is to plan your outfit and food the night before. At first, it might seem like a juvenile thing to do. I mean, I used to plan my outfits back in elementary school. But hey – don't knock it 'til you try it. Take a shower the night before, pick your outfit, and plan your breakfast/lunch/snacks. Are you going to eat cereal in the morning? Leave out the dry cereal in a bowl, or set the box and bowl you're going to use on the counter. Breakfast smoothies are also a great morning option. Make the smoothie in the evening and store it in a reusable water bottle so you can grab it in the morning and chug during your commute. If you bring lunch to school, make your sandwich and snacks before bed and pack everything in a bag in the fridge (but leave yourself a reminder somewhere so you don't forget your lunch. I've done this far too many times).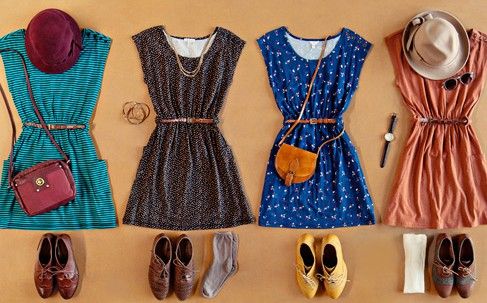 This saves TONS of time…and can double as a cute photo op!
5. Know these places: Watkins 2101, Ivan's @ Hindraker, and the Commuter Pit Stops. Each quarter, you have access to 40 free pages for printing on-campus. The computer lab on the upper level of Watkins is perfect if you've forgotten to print an important essay or last-minute assignment. For morning snacks, Ivan's @ Hindraker is located in front of Hindraker hall and next to the Humanities and Social Sciences Building. Ivan's offers sandwiches and coffee and is generally way less busy than Coffee Bean if you want to grab a quick bagel or latte in the morning. If you want free stuff, the Commuter Pit Stops are held by the
Commuter Services Program
and function like a meet-and-greet information booth with freebies. Follow them on their Facebook page and head to a Pit Stop so you can meet other commuters, grab a free snack, and unwind after a long drive! Follow them on their
Facebook page
and head to a Pit Stop so you can meet other commuters and grab a free snack!
The good kind of tabling.
Those are my biggest tips about commuting. What are some of the ways you survive your commute? Let me know in the comments!
---
Rebecca is a writer for Life at UCR, a student-run blog about life in Riverside. Follow us on Tumblr! 
---
Photo Sources:
http://streetsblog.net/2010/09/20/the-psychology-of-road-rage-how-cars-t...
http://sarahpinto.com/ 
http://memecrunch.com/meme/XP6/ucr-lot-30 
http://tinyglimpses.blogspot.com/2012/01/work-life-balance-wardrobe.html 
http://www.flickr.com/photos/ucr_taps_at/4460655702/in/set-7215762368585...
You Might Also Like...