5 Ways to Survive the Commute
Let's not beat around the bush here: lots of students at UCR commute. 70% of the student body lives off-campus and walks, cycles, drives, rides, or skates to school. Whether you're 2 miles away or 20, commuting is an everyday thing and I've been a part of it for about a year now. In that time, I've learned some things, seen some stuff, and picked up some tricks of the trade. If you're new to campus and are planning on commuting this fall, here are my 5 biggest tips to help you survive the commute to UCR.
1. Get to campus early. Commuting means that you live off-campus, whether you're in a nearby apartment or living with your parents at home. Either way, you should always factor in travel time when you're planning your morning routine. If you're driving to campus, Lot 30 is the most popular parking lot because it's the biggest and closest to major freeways. Finding parking in Lot 30 is all sorts of ridiculous, though, especially if you come to campus after 10 AM when most of the spaces have already filled up. Avoid the headache by getting to school before 10 AM. Waking up early might stink, but not being able to find parking is even worse. Most students get to campus later in the day, and arriving early to lot 30 means that you'll be more likely to find an open spot without having to cut off other students or follow someone as they walk back to their car.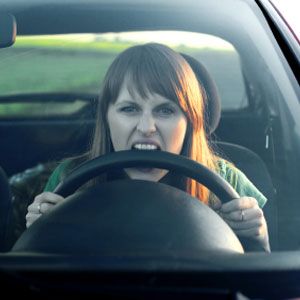 Steering wheel gnawing is a common side effect of trying to park in Lot 30.