When you wake up in the morning, walk out your front door, and see hordes of young people wandering around in an array of floral prairie dresses, distressed cowboy boots, and tangled feathers, you probably should freak out because you've managed to transport yourself back to the 1970's. Or, you could just slip on your Ray-Ban Wayfarers and keep walking because you live in Indio, California, and it's the weekend of Coachella 2012.

 
For many music and art fans, and especially college students, the Coachella Valley Music and Arts Annual Festival is the one weekend to look forward to every spring; the weekend that deserves a countdown and a large, pink-highlighted "Coachella is here!" reminder scribbled in the margins of the calendar, as if anyone could forget. Known for featuring a variety of music genres ranging from Indie to hip hop, and performed by artists like Madonna and Radiohead, as well as displaying impressive art sculptures around the grounds, it's no surprise why young adults flock to the festival like bees to honey.
 
But it's not just the artists and performers that define this weekend-long concert: attendees also contribute to the Indio magic with their own threads. Whether donning a maroon velvet floppy hat or weaving daisies through the belt loops of bleached denim shorts, Coachella is a utopia where anyone can celebrate their individuality and youth through expression of personal style. And the celebrities who graced Indio with their presence this past weekend are no strangers to originality; many of their three-day ensembles were comprised of something different from the usual Coachella uniform of crop tops and shorts. Needless to say, celebrity actors, singers, and models made a lasting impression this weekend with their festival attire that will be sure to inspire free souls for all the weekends in the desert to come.
Actress Vanessa Hudgens was an amplified version of her usual bohemian self this weekend. While Saturday and Sunday's outfits were more of a miss than a hit (Google her Native American inspired get-up for a laugh), Friday proved to be a keeper as Vanessa opted for a romantic, flower-child look. While she did model a floral crop top and denim shorts, the High School Musical star threw in a creamy, floor-length vest and nestled a crown of red roses in her tousled locks, which softened the usual hipster apparel. Vanessa completed the outfit with a pair of cognac leather boots but ditched them later in the day to walk barefoot, which added credibility to her down-to-earth appeal.
 
For Kate Bosworth, the spring heat waves and Indio's grassy fields brought out the western in her. The blonde bombshell, whose casual cute style I've been envying for months now, dressed up a plain black tee and denim shorts with large silver statement jewelry that included a belt and necklaces. But what really stole the show was her vintage-looking collared jacket embroidered with flower detail. Topped off with a pair of taupe suede ankle boots and sleek shades, Kate looked laid-back and effortlessly cowgirl-cool. And it never cramps your style to have a deputy on your arm.
British it-girl Alexa Chung won me over with her sweet, girl-next-door look. The actress slash model looked feminine in a simple cheery yellow sundress and black ankle-laced flats, but not too much of a Sunday-school-girl in a toughened olive green military jacket and a black quilted over-the-shoulder chain purse. Her darling ensemble proves that you don't need to show midriff or look like a drug addict in order to make a fashion statement, which is why I have dubbed her "Coachella Sweetheart".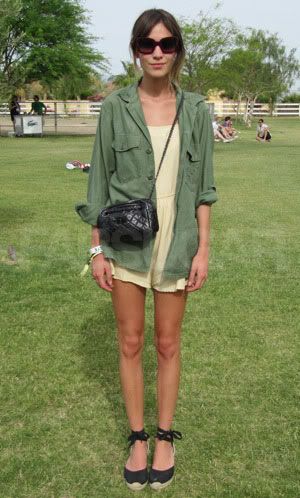 And now, I release you to hunt for your own Coachella duds. But before you pull out your Visa to pay for that straw fedora, I advise you to ask yourself: "Is this really me?" Because while you may want to fit in with the world, the world made you to stand out. So explore all the boutiques and thrift shops. Make your own flower crown. But do it because you want to do it, and remember that there's no need to hurry to collect your statement pieces: starting today you have twelve more months to prepare!
 
Sources:
http://stylenews.peoplestylewatch.com
http://www.styleite.com/
http://fashioniseverywhere.com
You Might Also Like...