Okay, so Michigan got knocked out of the NCAA Tournament in the first round, and while this is disappointing considering the team's excellent regular season, it doesn't change the fact that I'd secretly love to date the man who wears number 10 on his back.  I've been a Michigan basketball student ticket holder for the past two years, and at every home game, I feel the goose bumps tingling up and down my arms when Tim Hardaway Junior, the 6'6 guard from Miami is announced over the loud speakers.  So, why the goose bumps for number 10?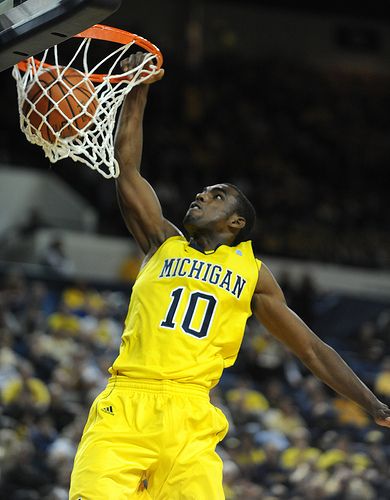 Genuineness. Hardaway Jr. is never cocky on the court.  He's an honest, down-to-earth, and loveable guy, just proud and passionate to be wearing the Maize and Blue and playing the game he loves.  Nothing beats an ambitious man who knows what he wants and works incredibly hard to achieve it.
All Smiles. Tim's pearly whites and lean 6'6 frame can be spotted all the way from the upper bowl of Crisler Arena – literally.  He never fails to flash a smile or stay positive.  You know what they say, happiness is contagious.
Fatherly Love.  Hardaway Jr.'s father was a Five-Time NBA All-Star, and Tim is now following in those same footsteps.  It's difficult to resist a man who truly admires his father and has athletic genes running in the family.
Leadership. Though only a Sophomore, Hardaway Jr. has said he's ready to "pick up the slack" left behind by Michigan's graduating seniors, Stu Douglass and Zak Novak, next season.  A man in charge has sexy and confident written all over him.
A Promising Future.  The NBA is already looking to draft the twenty-year-old basketball player.  Need I say more?  Let's just hope Tim sticks around at U of M for the next two years!
 
Maybe the next time I see Hardaway Jr. eating lunch in the South Quad dining hall, I'll muster up enough confidence to show him this article.  Just kidding, a simple "hello" is probably a better place to start.
 
 
 
You Might Also Like...