How To Get Back Into Routine For Another Semester
I don't know about you girls, but I'm still in summer mode. It's still difficult to keep track of what day it is, and I've been trying my best to get back into the routine. A new year means new stationery! And new stationery means new ways to succeed. Keep reading to get yourself to be back up and running for the new academic year. It's only about success from here! 
Clean Space 
I know sometimes it can be a pain to get up from the comfy spot on your bed and clean your room, but it helps! While I'm not a fan of cleaning my room myself, I try to clean it up when I get time, just to clear up my mind as well. Living in clutter can put you down and having a messy dorm or apartment won't help when it comes to feeling positive. Having a clean space makes your work space tidy, but you may actually also be motivated to do some work as well! It's the feeling of accomplishment that gets your mind working and also leads to a positive mindset. Give it a go when you have your next study session! 
Colored Pens 
Let's be honest. Black and blue pens are very generic when it comes to notes, and it's what all college students use when writing notes. But who's stopping you from making your index cards, or even your notes themselves, a little more colorful? If you go an extra step further and color code your notes, you'll realize that your brain has the ability to memorize your notes a little bit easier. Also, colors make your notebooks look very pretty! You'll be note-taking in style. *Puts on shades*
Lists 
Lists, lists and more lists! Lists can help save your week. Making a list for the week is very helpful and also satisfying once you've accomplished something and get to draw a line through it. With lists, you have all your to-do's in one place and can keep a track of what you need to do instead of forgetting it altogether. There are so many lists to choose from and not only the to-do lists! If you also want to target fitness this year, there are lists to keep track of what you eat (because we all know those pizza nights can become a habit on stressful day.) 
Planner and Calendars
With a planner, it's super easy to jot down your homework and essay due dates. There are some beautiful planners out there which may even motivate you to use it! It keeps you organized, and let's be honest, it's totally okay to go a little crazy with spending money on aesthetic stationery. It's for college of course!  I'm pretty sure all of us have had a calendar before, and if you don't have one, go buy one! It's so easy to jot down your important dates, such as exam dates or important events. Also, if you end up putting it on your wall, you'll be reminded of those dates, so you don't forget anything. It's also a good way of keeping track of what day it is, just incase you're like me and still trapped in the summer days. If you think calendar books are just another thing to buy and look after, have no fear, because online calendars are a thing too! Did you know you can download your whole schedule from your ICON schedule? In addition to that, you can easily put in your events as well, keeping track of your events for the day. 
Be Consistent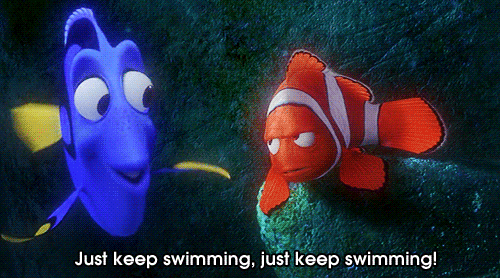 Consistency is something we all can slip up in. But it's important to be consistent when it comes to following your schedules. Make sure you follow through with your assignments, note taking and, most importantly, your study sessions. It will pay off in the long run but stick with it! Otherwise slacking off will cause you to make that your new routine, and we don't want you doing that. 
Positive Mindset 
For me personally, this is one is the most important tip to keep in mind. Positivity is a huge game-changer. It may sound cheesy, but if you think positive you can achieve so much because you believe in yourself. Not only will it help you achieve your academic obstacles, but having a positive mindset will make you feel better and great about yourself.