Feliz Cinco de Mayo y'all! In honor of the most celebrated Mexican holiday, restaurants throughout the city will be hosting fiestas fully equipped with live music, tasty food, and great drink specials. Make sure to hit up these venues and scope out all the action for a guaranteed loca noche. Arriba arriba!
Superior Grill will be hosting its annual block party for the Cinco celebration. With award-winning margaritas, spectacular beer specials, and live-performing local talent, you're bound to have a good time. Make sure to arrive early to secure inside seating and to avoid the hungry/thirsty masses that will most likely make their way to this epic event.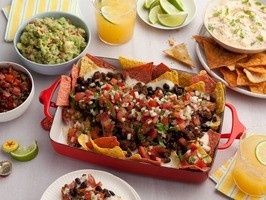 Mojitos Rum Bar & Grill, located on Esplanade Avenue at Frenchmen Street, will kick off its daylong fiesta with a live musical performance by Freddy Omar con su Banda, which will last from 1-4 p.m. Guests can dance the night (and morning) away, as live Latin music will play until the wee hour of 4 a.m. Mojitos Rum Bar & Grill offers an extensive array of drinks, including 43 different types of rum as well as delicious dinner plates such as lobster mac & cheese, shellfish paella, and crawfish fritters. For the vegetarians out there (myself included), the restaurant offers perhaps one of the most divine appetizers I have ever come across—warm Caribbean goat cheese: walnut goat cheese served with yucca chips and drizzled with Jamaican balsamic and raspberry reduction—YUM. If sipping on margaritas and tangoing till dawn is up your alley, then be sure not to miss this spectacular event.
For the more culturally invested folk out there, make sure to check out El Gato Negro for authentic Mexicancuisine. Chef and owner, Juan Contreras, pays homage to his heritage by dishing up traditional Mexican fare and serving fresh hand-squeezed margaritas. Specialties include guacamole prepared tableside, tacos, quesadillas, fajitas, and enchiladas. The vast drink menu (as well as the beverages themselves) will leave your head spinning in the best of ways. Exotic margarita flavors such as pineapple, cilantro & lime, carrot & lime, and spicy blood of the devil will be available in addition to traditional mint & lime, 
pomegranate, raspberry, and pineapple mojitos. The winning combination of delectable dishes andinnovative drinks will most definitely ensure a successful evening.
Additionally, In my most recent quest of pinterest stalking, I came across these absolutely adorable piñata cookies and felt it would just be downright rude if I didn't share them with you:
Feliz Cinco de Mayo!
You Might Also Like...