Like any cookie salesman worth his weight in flour, John is as goofy as he is good-looking.  No, seriously.  Like, Campus Cutie of the Year status.  (Order some cookies and you'll see what I'm talking about.)  "Basically another reason I want to do this is so that I can come up with ridiculous ideas and seeing if I can do them.  So now I have this awesome platform just doing ridiculous things and using this as an excuse.  It's awesome.  It's all meant to be fun.  I love going to, say, some of the nicer restaurants in Boston.  It's just good food.  But as much as I love the upper-crust places, the places that I love, that I go to all the time, I looove Taco Bell.  Love it to death.  Makes me feel sick every time.  I love Golden Light.  People say it's awful, the worst food they've ever had, I love it.  I get the pork-fried rice and the crab rangoons and I stuff it down my throat and I am sooo happy.  I'm just sad they aren't open until 3:01 am or I would stop there on my way home after work.  I just want to add something else to that awesome realm of junk food."
          Even when his job is messy, it's still outrageously entertaining.  John encourages Jumbos to get creative with the deliveries.  "One of the best ones I had at RIT was a delivery to a 4th story window.  They dropped a basket down and I did the delivery that way… Maybe I'll give people baskets and fishing lines, when I can actually afford baskets to give out to people."
          Faced with the Bartender's Dilemma largely due to the inebriated state of many of his customers, John has managed to make light of every situation.  Recently, while biking around campus making deliveries, John came across a "pretty intoxicated" girl who told him all about her religious beliefs and how she was "saving herself for marriage."  Usually though, John ends up chatting with his customers when he makes deliveries.  He has that personality and charisma that makes you want to order cookies, if only to hang out with him for a few minutes.  His enthusiasm is contagious, and it is obvious that he is passionate about what he does.  My love for cookies intensified each minute of the interview.  And that was before I got to even taste the cookies.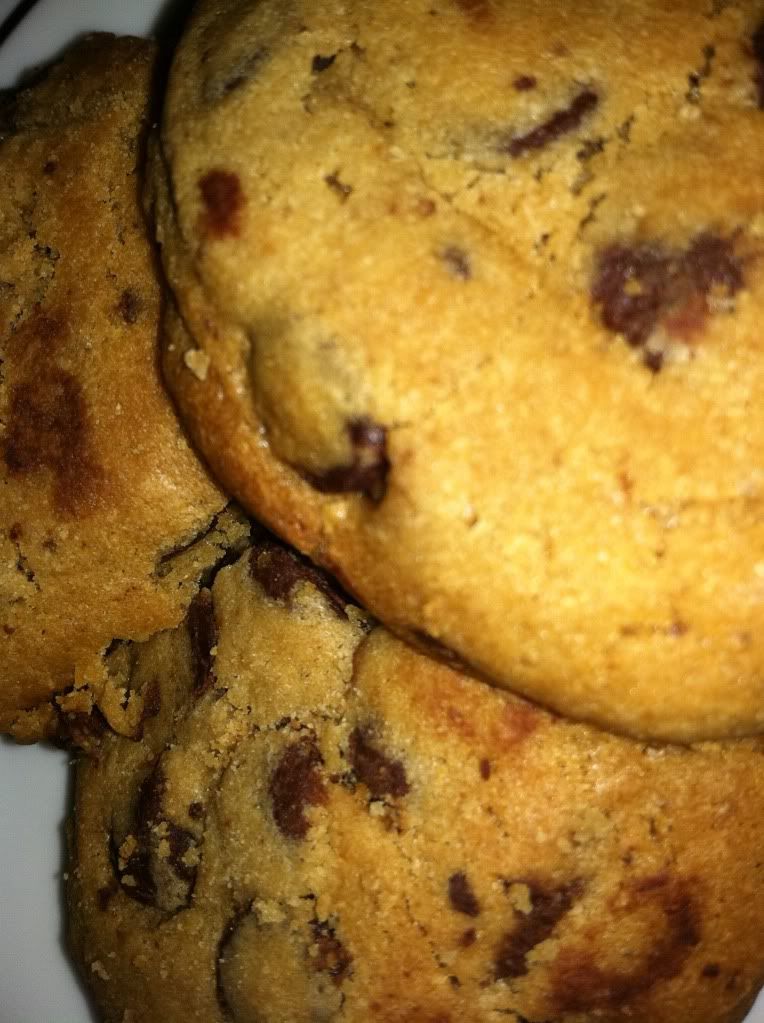 The cookies.  Wow, the cookies.  When John handed me two packs of the baked goods to try them out, I wasn't sure what to expect but I promised to be honest with him.  Well, John, I can honestly say that they were absolutely delicious.  They are much more filling that your average cookie, and both the Snickerdoodle and Chocolate-Chip cookies were the perfect consistency: soft, but they held their shape nicely.  I meant to share them with my housemates, but once I tried one, I decided to keep them to myself.  (Sorry, guys.)
           I'll leave you with one of the last things John shared with me: "I have a ball every night I'm out there.  You guys can't see it because I have the mask on during the winter, but I've got a huge grin on my face.  When it gets nice out again, you'll see me beaming.  I have fun making people happy and helping them to make awesome stories.  That's really the main reason I started this when I was in school.  I realized I didn't have an answer to 'what's the coolest thing you've ever done?'  This incorporates a lot of my different passions, and it blows my mind that people like it, too."
         John will be updating the Sweet Idea blog (http://haveasweetidea.com/blog/) regularly, so check back there to read more about his encounters and adventures.  Support local businesses and a nice guy- order some cookies.
 
Open: 9pm to 3am Thursdays through Saturdays
(Plus Superbowl Sunday from 6pm until the cookies run out!)
Price: 6 cookies for $5
To order, just text 424-241-2825
 
To get in touch with Sweet Idea…
E-mail – john@haveasweetidea.com
Twitter – @haveasweetidea?
Facebook – www.facebook.com/haveasweetidea
Photo: Daniel Wodecki (www.danielwodecki.com)
Pages
You Might Also Like...