Springtime at Trinity means lax pinnies, sundresses, and spring weekend.  To make sure you're fully prepared for all your quadding adventures, HCTrin has compiled a list of spring weekend survival tips.
 

Finding the perfect spot to plot yourself on the quad shouldn't be too hard, but you want to do so in style.  Go to target or walmart and invest in some cheap lawn chairs and a cooler so you and your friends have a home base to return to.
 
Pace yourself.  Just because the quad turns into a giant frat party on spring weekend doesn't mean you have to act like you're at one.  Remember it's still daylight and everyone can see you even if your vision's a little foggy.  The goal is to be able to enjoy the day and still make it out to the nighttime concerts and parties.  Plus, you'll wake up the next morning with a giant case of FOMO if you pass out too early.
 
Drink Water.  Not only will your body be thanking you around 5 P.M., but there are also many more components to day drinking than regular drinking that cause dehydration—mainly, the sun.
 
Go HAM and get that perfect pair of sunglasses you've always wanted.  May we suggest these?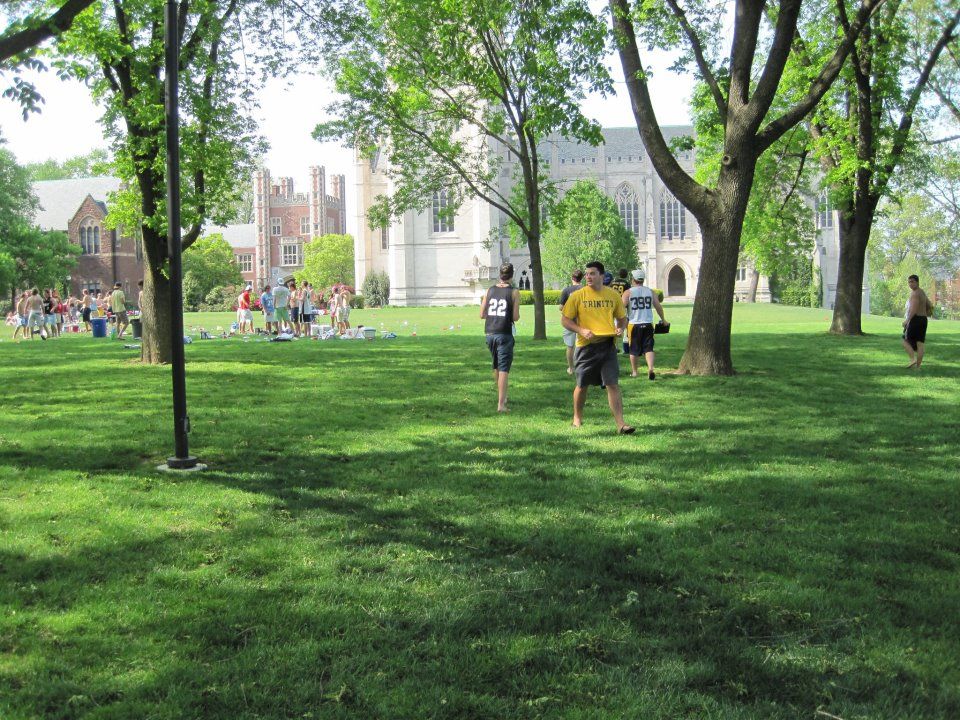 Play games!  Let's just say everyone wants to be the girl with the slip n' slide on the quad.  Spring weekend is about interacting with your fellow collegiettes one last time before the end of another year.  Invest in a whiffle ball bat or a football to toss around, or get a big group together to play this Trinspired version of the "Drink If…" game
Drink If….
You see a girl in a bikini (hopefully a rare occasion)
You see a bro in a lax pinnie (prepare to get drunk)
You hear the song "Call Me, Maybe"
A tour passes
You see a campus safety officer
Someone complains about the weather
You see a freshman looking like a little kid on Christmas
 
Wear sunscreen—or at least makeup or moisturizer that has sunscreen in it.  Nothing is worse than the unexpected sunburn.  Also try to spend a little time in the shade every hour to give your skin a break.
 
Make sure you have everything you need for the rest of the day/night before you start drinking.  AKA don't drink and drive.
                      
Try to stick to the same type of drink during the day and night.  Mixing too many different types of alcohol is what causes you to get sick, and increases the intensity of your hangover.  Check out the next page for some great drink recipes that can transfer over from day to night.  And if you do find yourself unbearably hungover after your late-afternoon nap, page three has great food remedies.
 

Pages
You Might Also Like...