Christine Cox: Actress, Dancer & Entrepreneur
Baltimore County native and Towson graduate Christine Cox planned on being a dance teacher when she studied dance performance and education at Towson. Now not even 10 years later she is the owner of three small businesses, two of which have become New York City's premier children's entertainment party providers for New York City's elite. Christine's powerful networking skills and intelligence turned her dancing skills into a small empire.
During her senior year of college at Towson Christine was student teaching at Dulaney High School in Baltimore County when she said she felt that the path she was on towards her career was not the right one.
"When I was a student teacher, I knew it wasn't right," she said. "I just wanted to be a dancer in New York City."
So Christine enlisted the help of her former professors at Towson who helped her land an internship at the Lincoln Center Institute as a teaching artist working on arts integration in teaching. She moved to New York City in the summer of 2005 and hasn't left since.
"Ballroom dancing was really popular at the time with all the hype of reality shows like So You Think You Can Dance and Dancing With the Stars so I decided to take classes in that," she said.
This eventually led to Christine landing a job performing as a dancer on Good Morning America and The View.
Always looking to make herself stand out, Christine took clown classes and learned the ins-and-outs of clowning including face painting and making ballon animals.
She used these skills and started to "rent" herself out as a kids entertainer at children's parties.
Her popularity among the New York City elite as a children's entertainer grew immensely and Christine soon founded her first business, Miss Christine. Not only does she "rent" herself out, but she also hires other actors to work for her and perform at parties. She casts the performers herself and writes short plays for them to perform at parties. Miss Christine puts on over 200 children's events each year.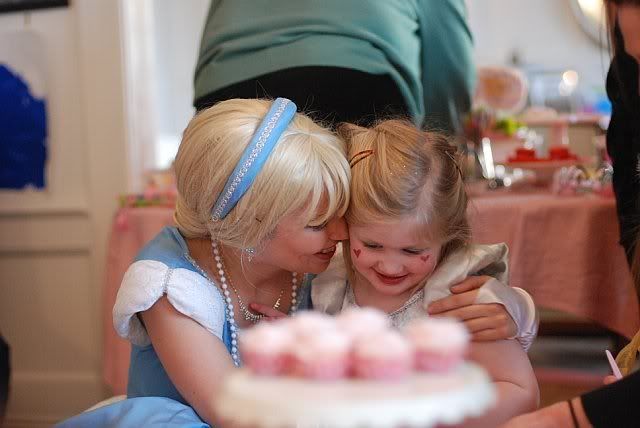 A popular facet of her company was the princesses she trained and so she, along with a business partner, co-founded A Princess Visit, which provides an interactive party experience, complete with a real Princess, to its clients.
"On the typical day, I get to be immersed in glitter all day," she said.
As if two businesses weren't enough Christine was approached by an old contact in Baltimore to teach ballroom dance to elementary aged children. With that, 5th Grade Ballroom Stars was born.
Christine comes to Baltimore for two weeks in the fall and the winter and teaches at different schools for a week each. The children then perform a short recital at the end of the week. The program has been particularly popular and has been featured in the Baltimore Sun.
"I've always been an entrepreneur," Christine said. "Even in college I taught dance, baby sat, worked at Forever 21 and took 21 credits at school."
To this day Christine still teaches dance and auditions for acting and dancing jobs on the side.
So how does Christine do it all and not lose her mind?
"I'm very organized," she said. "I really have created this life for myself where I'm really happy and passionate about what I do."
Christine even met her boyfriend, Max Darwin, an actor and magician, through her work.
"He was dressed up as one of those guys from High School musical and I was Dora the Explorer," she said.
Christine credits her networking skills to her success.
"It's really the power of networking," she said. "In college, I don't think you realize the importance of networking or how anyone is an email away. A lot of things in college are setting the prep work down. Understanding that the people and teachers are there to support you and help you is important."
Christine wants college students to know that no matter how discouraging the real world can be that becoming successful is possible.
"It's just hard," she said. "No matter how difficult it is and how much you think you won't get through it you will get through it. You are going to have a successful career."
Throughout her astonishing short career thus far Christine has accomplished exactly what she set out to do.
"I came to New York to dance and to work as a dancer," she said. "Not even necessarily on Broadway, I just wanted to get paid to perform and I did that."
Christine made it in New York City, and as the song goes "If you can make it there, you can make it anywhere."
Want more Christine? Visit her personal website or the websites for her businesses Miss Christine, A Princess Visit or 5th Grade Ballroom Stars.