Q & A with Deika and her Makeup Bag:
Me:
How long should you keep your makeup?  
Deika:
If you keep your makeup all in one bag, make sure to keep things clean! Bacteria and germs are SO NOT COOL! If you use sponge applicators for your foundation, change them often. Get in the habit of washing your brushes at least every other week. With mascaras, I like the 3-month rule. Chances are, if you can't remember where and when you bought the makeup, it's time to toss it and start fresh.  
Me:
Lip liner; necessary or not?  
Deika:
Lip liner can be used for different reasons, whether it's to create a fuller lip, or to prevent lipstick from bleeding. It is best to use a natural tone; if you prefer color, choose one that blends in with your lipstick to prevent having an odd line left around your lips when your lip color begins to fade.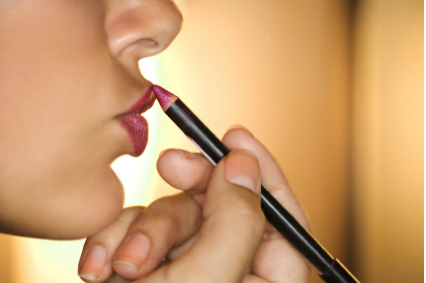 Me:If you were appearing on Survivor and could only bring one item, which makeup item would you choose?
 
Deika:Oh goodness, this is such a tough decision. I have to choose wisely. So if I'm on Survivor I know I will be outside, which means I will be tan! I'm sure someone will have sunscreen, so I'll borrow theirs, and at least get a safe tan. So I'd have to choose my concealer, because these dark circles MUST be covered if nothing else will be. And, if I can sneak one more item, waterproof mascara is definitely coming with me!
 
Me:A good suggested routine/order for applying makeup?
 
Deika:In order to have nice makeup you must have your skin well prepped:
First, apply anything medicated (treatment cream for acne, rosacea etc. or anti-aging products). This way the active ingredients can properly penetrate the skin. If you use a heavier cream make sure you let it sink in to your skin before applying anything else over it.
Apply eye cream. (You may feel you don't need one now, but it's always better to prevent than to treat). 
Apply sunscreen.  To save time and money, apply a moisturizer with a sunscreen already in it.
Apply eye makeup.
Apply Primer. 
Apply your foundation. My favorite foundation is BareMinerals Original Foundation. If you're on the oilier side, BareMinerals Matte Foundation works great.
Apply your under eye concealer. If you have dark circles, use a neutralizer under the concealer (Bobbi Brown has a great one!).  If you're using a mineral or powder foundation, apply your concealer first.
Set your foundation with a translucent powder if you are using a liquid foundation.
Apply bronzer.
 Apply blush.
Me: Any last words of advice?
 
Deika:You don't need to break the bank. When it comes to makeup, keep your options open.  You may just end up loving that item from the drugstore over a high end one. "Less is more" is the first rule to honor when applying your makeup. Makeup should be FUN; it's meant to enhance your Natural Beauty, not hide it! So let's not make it into rocket science. 
 
Have fun ladies and stay beautiful!!
 
 
Pages
You Might Also Like...