The most shocking news to hit this year's Grammy Awards was the death of music legend Whitney Houston. In the opening, LL Cool J started off on a serious note to pay his respects to the renowned performer. LL Cool J then took it upon himself to find the positivity within this serious tragedy and reminded everyone that the annual celebration of music would not disappoint. He then turned the stage over to Bruno Mars, who gave his usual flawless and sprightly performance.
        The first award for best solo pop performance went to none other than Adele. Moments later Chris Brown took the stage and hyped up the crowd with "Turn Up the Music" and "Beautiful People." Brown started off with his own live voice, but that quickly changed. With the amount of movement in his performance, I am not sure anyone could blame him for his usual lip-syncing techniques. Later on in the show, Rihanna took the stage performing her smash hit "We found Love" and then joined in a duet with Coldplay singing their single "Princess of China." Coldplay then took the stage themselves and sang "Paradise," with sheer power.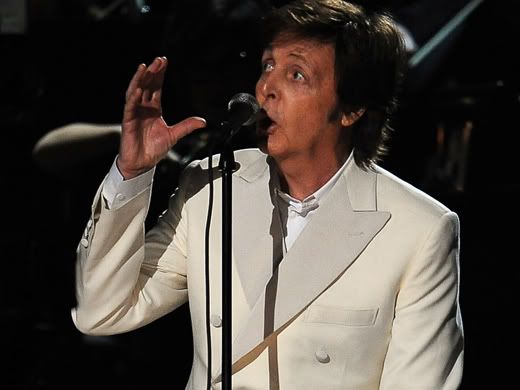 One of the most anticipated performers of the night was rock legend Paul McCartney, singing a love song off of his new album. McCartney's performance was quietly potent and reminded everyone that despite his age, McCartney still lives up to his hype.  Shortly after, Chris Brown picked up the award for best R&B album. This was his first Grammy, and it appears that despite all of his past controversies, Brown still has a solid fan base.
Pages
You Might Also Like...