Remember when it seemed like a really good idea to date that guy…and then it wasn't? Yeah, me too. College culture was never intended to withstand the drama of relationships, and it would be so nice to have a set of criteria letting us know if we should even bother trying. The next guy may seem great, but what are the repercussions? Is it worth missing out on valuable single-girl time, where you could meet someone even better for you?
Here's a list of the pro's and con's of the many college men we may cross paths with. I'm not just talking whether he brushes his hair or if he has an annoying best friend – I'm talking about all of the perks that not many girls admit to enjoying, and the downfalls that too many of us tend to overlook.
Is he worth it? It's up to you.
The Frat Guy
Pro's:
- Guaranteed entrance to Greek parties (do those even exist at QU, though?)
- Hooking your friends up with his brothers
- He's already accepted by a group of people at school…so he's good enough for you, right?
Con's:
- His brothers will always look out for him, which can put them in your business way more than you'd like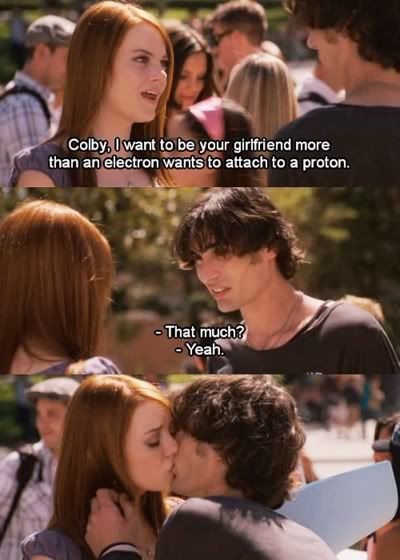 - His frat's sister sorority. Sorry, it had to be said.
- The constant, but only potential, need to impress his brothers
- Taking a back seat to fraternity events, meetings, and sometimes even parties!
Your Best Friend
Pro's:
- Umm…he's your best friend.
- You're likely to be more comfortable with him than with a guy you initially date before becoming close.
- He already knows who and what you do or don't like.
- He's probably already in your group of friends, which is a huge time saver.
- You know about most of his annoying habits and quirks before the relationships even begins.
Con's:
- Umm…he's your best friend.
- It can be hard to translate your friendship into romance.
- It may alter the dynamic of your group of friends.
- If things go wrong, you may have just lost your best friend.
- Knowing about his past hookups and relationships.
The Guy Across The Hall
Pro's:
- Helloooo, convenience.
- You've probably seen how each other looks when you first wake up, and if you're okay with that from the get-go, you're in good shape.
- Walks of shame are at a minimal distance.
- He can't be lying about where he is if he lives within plain view of your room.
- You have someone to run to when the satanic QU fire alarms go off at 3am.
Con's
- Constantly being around him can lead to severe attachment issues for one or both of you.
- You may get sick of each other really quickly.
- You're taking the risk of annoying the crap out of your roommates by always being in each other's rooms.
- If things don't work out, you're stuck with him being no more than 20 feet away for the majority of the school year.
The Athlete
Pro's:
- Being able to cheer him on at his games.
- The possibility of him getting the Chronicle cover story for his game-winning goal.
- The satisfaction of knowing that you tied down an athlete, who's likely in high demand.
- Gaining VIP entrance to all of his team's parties.
Con's:
- I may be stereotyping them, but their ego's can get in the way.
- How his teammates will constantly be around, and checking up on you two.
- Team practices and games taking priority over date night.
- He's in high demand for a reason – you may constantly feel the silent competition between you and female passerby.
The Classmate
Pro's:
- You can tell before actually hanging out with him whether he's intelligent or not
- Late night study sessions? Yes, please.
- Bonding with him about the pain of your professor's monotone voice or how annoying the know-it-all kid that sits in the front is.
- Walking to class together across our beautiful campus.
Con's:
- If you're pissed at him you still have to see his face for 50+ minutes straight, 2-3 times a week.
- If one of you does better on the test than the other, it can make things a bit uncomfortable
- The possibility of becoming "the couple in class" who no one else can stand.
These years of our lives are no time to waste your time on a waste of a guy – don't go into your next relationship unprepared. It's essential to know whether you should keep it casual, put a speed limit on your friendship, or take the full relationship plunge; no one wants to look back and wish they were listed as "Single" in college. Just because it's slim pickin's here at QU doesn't mean you need to settle!
 
You Might Also Like...