Hey, Providence Collegiettes™! Finals week will soon be upon us, so to help the ladies of PC prepare, I'm going to give you guys a quick low-down on all of the study spots that Providence College has to offer, so you can figure out the best study spots for you.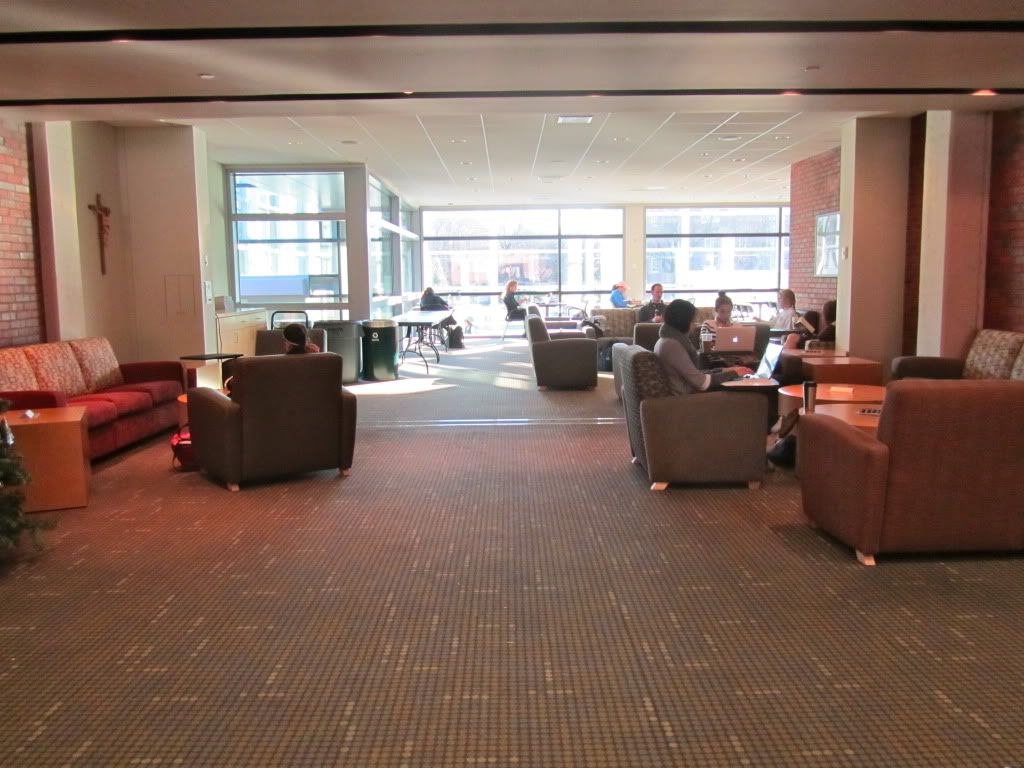 Slavin Overlook Lounge
The Overlook Lounge is a great place to study if you're someone who needs relative quiet to work, but wants to be surrounded by friends. A lot of people choose Slavin as their primary study location during finals week, so whether you head to Alumni for some food or snuggle up in one of the Overlook couches, you're bound to bump into someone you know. Even though you're studying, sometimes a break for social interaction is necessary. Or you can even recruit your friends to join the study party! As far as the setup of the lounge goes, there are comfy couches with pull out desks attached, as well as little end tables. So if you need a table and a hard-backed chair in order to get work done, this is not the place for you. But if you like a little comfort while you work, then this is your kind of place.
Lower Slavin
Unlike the Overlook Lounge, Lower Slavin is never going to be quiet. Lower Slavin is the place to go if you're the type of person that likes to study with friends in a large group, or needs to do a lot of talking in order to understand certain concepts. The tables in front of PC Perk are available as workspaces for groups of 2 or 3, but Lower Slavin is almost entirely populated with comfy couches and chairs for your studying pleasure. In addition, the tables in Alumni are also a great place to get some work done (just don't bring your laptops, since there aren't any outlets available in there). If you plan on working in Lower Slavin, make sure to stake out your spot early as this is PC's preferred place to study, and during finals week, Lower Slavin is usually stuffed full of students.
Phillips Memorial Library
Phillips Memorial Library, or "Club Phil" as it is lovingly referred to around the PC campus, is the best choice of study locations for those students who needs a quiet and focused environment in order to get some work done. While the basement of the library, which houses the TechHub, is often fairly noisy, the upper floors of the library are usually pretty silent and house a number of chairs and tables for people to work at. There's also a set of sunken couches in the center of the main floor, for those of you who desire quiet but a bit of comfort too. The library is also a great place for finals studying if you need to use some outside resources to supplement your notes or write a final paper. Between the books, computers, and librarians available to the students, you'll have no end of resources if you get stuck while studying.
Center for Catholic and Dominican Studies
The Center for Catholic and Dominican Studies is a bit of a hidden jewel on PC's campus. Located adjacent to Aquinas and across from the chapel, many students are unaware that it's a great space to get some quiet studying done. The space is open from 8:30 am to 9:30 pm Monday through Thursday, and 8:30 am to 4:30 pm on Friday. Due to the hours, the Center isn't an ideal place for those of you who can't bring yourselves to start working until 9pm or later. The Center is often fairly empty, even during prime studying hours. This makes it a great place to work for those of you who need relative quiet to work, but dislike the slightly somber atmosphere of the library. The Center for Catholic and Dominican Studies has clusters of both tables and chairs, as well as couches, so you have your choice of workspaces.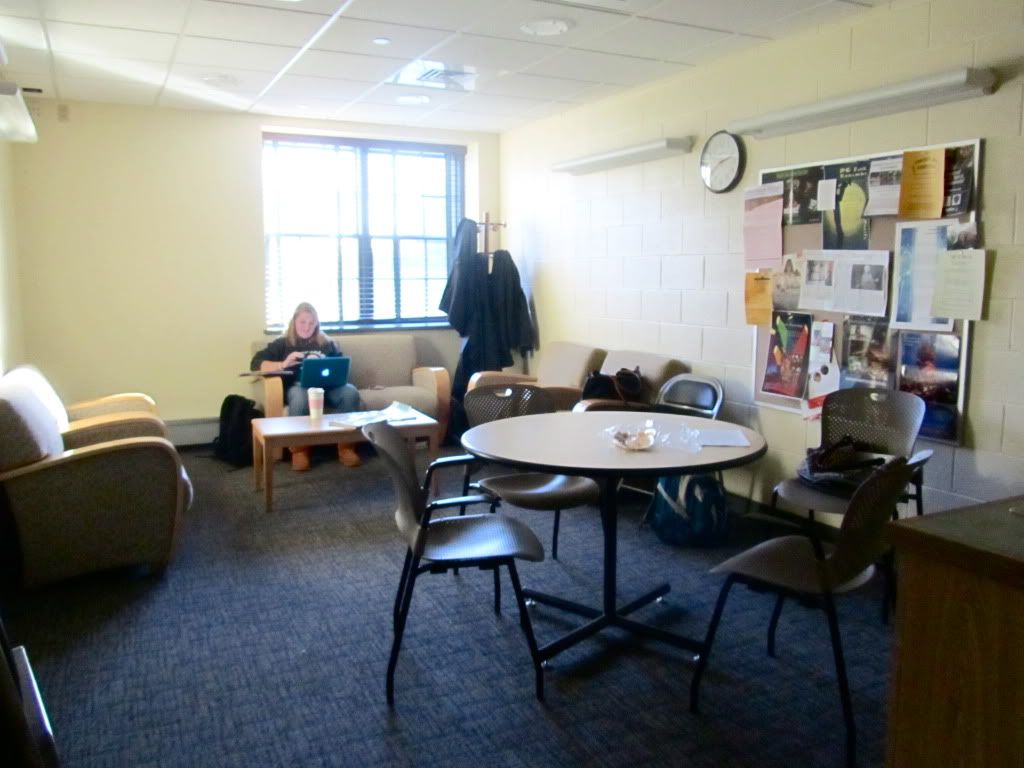 Smith Center for the Arts Lounge
The lounge in the basement of the Smith Center for the Arts is another little-known study space at Providence College. Located in G02 of the Smith Center, the space is primarily used by theater and music majors who typically spend the most time in that building. However, the lounge is very rarely occupied to full capacity and is open to anyone who cares to study there. The lounge is small in size, filled with couches and one lone table. This study space is definitely for those of you Collegiettes™ who prefer to be comfortable while working. It's small in size, so this is probably the type of place for students who would rather study by themselves or in pairs. Due to it's rather out of the way location, this is an ideal study space for those of you who live on Lower Campus and just need to get away from the dorm for a little while to get some work done.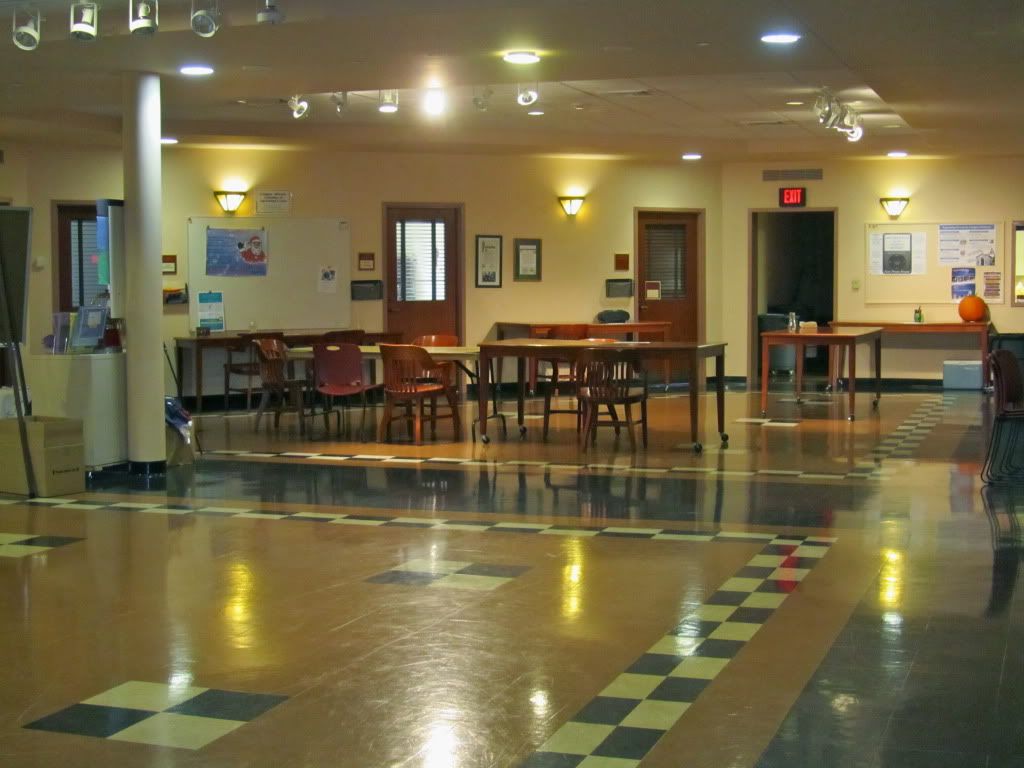 Campus Ministry Center
Like Lower Slavin, the Campus Ministry Center is a good place to go if you're more of a social studier. Although there's an entry foyer that serves as a relatively quiet study space, the majority of the tables and chairs that make up the work area in the Campus Ministry Center are located in a central room that's usually home to a fair amount of chatter and camaraderie. This social atmosphere could have something to do with the fact that there's a kitchen in the basement of our chapel that students make frequent use of during the long hours of finals studying. The chatter in the Campus Ministry Center is not quite as loud and overwhelming as it is in Slavin, so if you're looking for somewhere with a bit of background noise, the chapel basement fills that role nicely. It's also typically not very crowded, so you won't have to struggle to find a seat.
Aquinas Lounge
Although it's located inside one of the dorm buildings, Aquinas Lounge is open to all students as a study space. Due to its smaller size, it has a nice, cozy feel to it that makes studying for finals a little bit more enjoyable. It's also one of the slightly less populated study spaces on campus, so if you're looking for an area that's less occupied, Aquinas Lounge is a good place to go. The lounge has both couches and tables and chairs, so whether you prefer comfort or the ability to spread out on a flat surface, you'll find your choice at Aquinas. Although the study space is more intimate and relatively unpopulated, those who go to Aquinas Lounge don't go there for absolute quiet. While it is by no means noisy, there is typically a good amount of talking going on in the lounge. This makes it a particularly desirable place for either group study, or for students who need a little bit of noise to get work done.
So there you have it, Collegiettes™! Those are PC's finest study spots for the stress-inducing horror that is finals week. Hopefully, with this guide, the ladies of PC will be able to find the best study space for them. Good luck on finals everyone, and keeping checking Her Campus for more updates about how to manage in the weeks before Christmas break.
You Might Also Like...