Don't get me wrong, there is always a time and place to jam out to Nicki Minaj and Carly Rae Jepson. But when you're looking for music with a little more depth than "Starships were meant to fly" or "Call me maybe," there are countless underrated musical artists that can satisfy your more sophisticated cravings.
Thanks to the ever-progressing Internet technology, musical artists now have access to a potentially enormous audience online without a major commercial record deal. This is awesome news for college students like us, who don't necessarily have the extra cash to spend purchasing entire albums.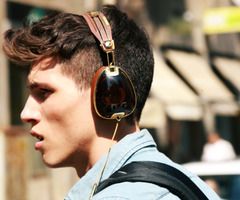 Many young entrepreneur musicians aren't looking for a profit, rather they want their music to be heard and appreciated by as many people as possible. Michael M. McCarthy, a 20-year-old musician from the Philadelphia suburbs, represents this group of passionate artists.
"As co-founder and CEO of the M4MusicMovement, my team and I are encouraging local artists from all genres of music all over the United States to join the movement. We are aiming to shed a light onto the underground music scene from Philadelphia all the way to Los Angeles," says McCarthy. His music can be heard at http://soundcloud.com/michael-m-mccarthy.
To get started on expanding your iTunes's horizons, I have put together a list of ten songs that includes not only currently well-known artists, but also the underrated, less-than-famous, but entirely deserving group of musical artists.
1) Between Borders- Decorate
http://www.youtube.com/watch?v=hXA-y51Nazk
2) Madeon- Finale
http://www.youtube.com/watch?v=3HqDMYDR9_U
3) Star Slinger- Take This Up
http://soundcloud.com/starslingeruk/star-slinger-take-this-up-jet-jam
4) Theophilus London- Big Spender
http://www.youtube.com/watch?v=zlXjqKpF7GI
5) Midi Matilda- Love & the Movies
http://www.youtube.com/watch?v=hlyK18JL7OI
6) Chyron- My Thing
http://www.youtube.com/watch?v=jxgme0n-SXw
7) Little Dragon- Recommendation
http://www.youtube.com/watch?v=_HtgKGRi-xs
8) Animal Collective- Today's Supernatural
http://www.youtube.com/watch?v=47xbkT3calM
9) The xx- Angels
http://www.youtube.com/watch?v=_nW5AF0m9Zw
10) Freddie Gibbs- The Hard
http://www.youtube.com/watch?v=k9Or1mBiGj0 
You Might Also Like...