We all know relationships are hard.  Then add college into the mix: casual hookups, friends with benefits, guys who don't want a serious commitment… Now imagine that somehow you manage to find that special guy – perhaps that cutie down the hall? – and a new relationship blossoms.  And now add hundreds, or even thousands, of miles… BAM. That's quite a roadblock.  But, never fear, ladies, as someone in an LDR – that dreaded long distance relationship – I can tell you that they can in fact work!  Simply follow these Dos and Don'ts, and the miles will seem to melt away.
 
First things first: No relationship can work without real commitment, and an LDR requires even more effort – so you have to ask yourselves if you want a relationship because it's convenient, or if you want a relationship because you really care about the person.  If it's the former, it might be better to find a boy closer to campus.  But if it's the latter, then keep reading!
1. Trust and Honesty: The biggest Do!
Trust is the foundation of every relationship, and as distance increases, so does the importance of this basic element…but so does the trickiness of establishing it.  It's so easy – and natural – to assume the worst when you aren't privy to someone's every thought or activity throughout the day; however, you both must take a leap of faith and raise your trust level with your partner. You fell for him in the first place, right? You started a relationship, and both decided it was important enough to continue long distance, right?  There will certainly be bumps in the road, but if you are open and honest about your life apart and who you are, then you have nothing to worry about.  Simply relax, and learn to trust him and yourself.
 
2. Facebook stalking, checking his phone, and all other forms of paranoia – Major Don't!
While it's hard in this day and age to not check up on your boyfriend constantly – from obsessively looking at his facebook profile, to keeping tabs on the girls he friends or those that friend him, to scrolling through his messages when you're together – you must resist this urge!  It's only detrimental to the kind of relationship you want to build: a healthy, loving LDR.   This kind of behavior creates a clingy, paranoid, or downright untrustworthy girlfriend – not representative of the strong, independent girl you are!  It'll only end up driving your boyfriend away – and in an LDR, there's not much further away he can go. 
 
3. Technology – Do use it!
Take advantage of the incredible technology all around us!  Do more than just text or facebook chat – actually talk on the phone, hear each other's voices, and use Skype!  There is nothing better than being able to see my boyfriend's face after a really tough day.  Even though we can't be together at all the hard moments, being able to really see his smile, and his expressions, makes everything more bearable.  Plus, Skype is free, so no angry phone calls from Mom and Dad about your crazy phone bill! 
 
4. Take the Relationship Lightly – Don't!
It's hard enough to maintain a relationship through the distance, and the alternate visits, and the inevitable alone time that each partner faces.  However, this is no excuse to take your guy for granted (or for him to do the same!).  No, I'm not saying that just because you choose to be in an LDR that suddenly you're committed for life!  (But hey, if it works out like that, then great!)  What I mean is that you're already doing the hard stuff, and presumably pretty well if you're still together.  So don't flake on the "easy" stuff that geographically close couples often do: for instance, if you have a phone date, or a Skype date, then keep it! Show him you care by making the small moments count; being there for him even though you're far away makes a huge difference in both your lives.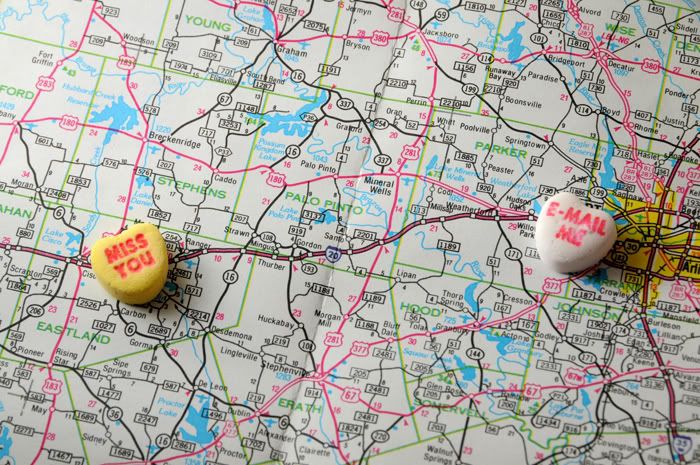 Plan Ahead – A Definite Do!
With your busy schedules – commitments to friends, family, campus activities, social events, etc. – it is essential that you plan and make time for your significant other.  This means sitting down, with a calendar, and figuring out visits.  If you have a lot of work one weekend, and he doesn't, it's okay to say that you're swamped; similarly, if the situation is reversed, be okay with staying put and have a girls' night!  Most important, though, is time together, and lots of it – it's healthy and essential in an LDR!  Just make sure that you don't disregard each other's schedules.  Of course, the occasional surprise visit is never discouraged!
 
Keep things exciting – A Big Do!
It's easy to fall back into old patterns of conversation and activities – especially when you don't see each other a lot.  But it's important to maintain excitement and to keep the relationship interesting.  So when you do get that all too infrequent time together, go out and explore!  Try new things together and make lasting memories.  New foods, new activities, new movies, or even just a change of scenery – all of these keep the romance alive.  And don't forget to keep the more intimate parts of the relationship exciting too!  Don't be shy, ladies, spice it up, especially when you only see him a couple times a month at best!
 
Lastly, I recommend laughing.  It's one of the best and most special parts of an LDR – those fits of laughter that prove the happiness and love you two share.  Laughter truly is the best medicine, so go have fun with your guy! 
 
Bottom line: If you want to make it work, you can – distance won't be an issue if you really love him. And remember, you won't be long distance forever.  Good luck, collegiettes!
You Might Also Like...