When: Ongoing through April 28
What: "Dear Sexual Violence" Letter-Writing Campaign
Where: http://dearsexualviolence.tumblr.com/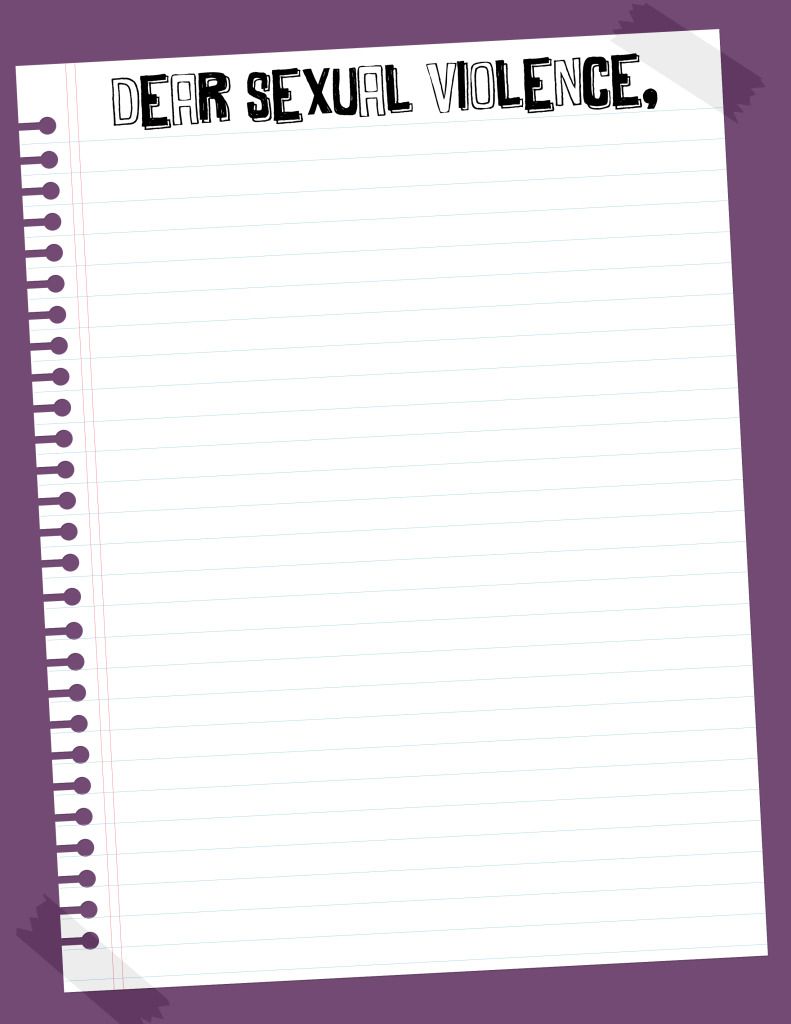 Description: Sexual violence affects our entire community. And Northwestern is taking a stand. Write your own break-up letter to sexual violence and submit it on the "Dear Sexual Violence" blog. The letters will be on display during Take Back the Night on April 26th and the Student Body performances on April 27th and 28th. Sponsored by SHAPE (Sexual Health and Assault Peer Educators). Contact shape@u.northwestern.edu for more information.

When: Wednesday, April 25th, all day
What: White Ribbon Campaign and Break the Silence Day?
Where: Tables outside Kellogg?and the Rock
Description: For the White Ribbon Campaign, TBTN committee members and MARS (Men Against Rape and Sexual Assault) will ask men to sign a national petition promising not to perpetuate sexual assault or stand by as friends or acquaintances do.  After they sign the petition, they will be given a white ribbon to wear the rest of the day.
 
For Break the Silence Day, we will be encouraging the Northwestern community to wear black to symbolize silent shame so many survivors experience. SHAPE will hand out stickers at the Rock that say "Consent Is Not…Assault Is Not. Ask First!" Campuses across the Chicagoland area will also participate in Break the Silence Day along with NU.
 
When: Thursday, April 26th, 5-8
What: Take Back the Night BBQ, rally, march, and speak out
Where: BBQ-Women's Center, Rally- The Rock, March- all around campus, Speak Out- Norris Dittmar Gallery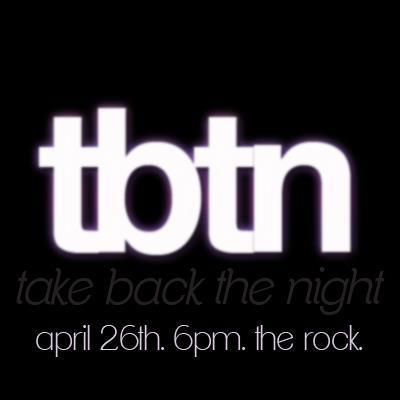 Description: Rape, sexual assault, sexual abuse and domestic violence are often labeled "crimes of silence" because of low reporting rates and social discomfort with the topic.  Take Back the Night is an international movement to start a community-wide discussion about the realities of sexual assault, including its prevalence and what we can do to stop it.  Come enjoy BBQ food, listen to guest speaker Eva Ball (Coordinator of Sexual Violence Response Services and Advocacy at NU CARE) speak at the rally, march throughout campus shouting TBTN chants, and attend the survivor speak out, the most empowering way to break the silence.
 
When: (Tentatively) Friday, 6 PM
What: Self Defense Class
Where: Either Blomquist or Patton Gym space
Description: Join College Feminists and the Women's Center for SELF-DEFENSE TRAININGwith professional mixed martial artist, athletic trainer, and self-defense specialist Ramy Daoud!  Ramy has trained men, women, and even police officers to improve their self-defense skills.  By focusing on real-life situations, this self-defense class will have you feeling empowered no matter who you're with or where you are.  Be in control of your body!  Know how to protect it, and, most of all, feel confident in knowing you have the tools to keep yourself safe!
 
When: Friday, April 27 at 4 pm & 7 pm and Saturday, April 28 at 7 pm
What: Student Body: A Performance about Sexual Violence at NU
Where: Louis Auditorium, TIC
Description: A highly anticipated reprisal of the 2011 Wildcat Welcome Week performance, "Student Body" will be open to all Northwestern students, faculty and staff.  A brave, thoughtful, and dramatically engaging new play devised and performed by Northwestern students examines sexual assault through the broader lens of sexuality in NU culture.
 
When: April 30th, Monday, 6 PM
What: Miriam Perez of "Feministing", on "Using Social Justice to Combat Sexual Assault"
Where: Harris Hall, L07
Description: As a former editor of "Feministing," Miriam has dedicated herself to a variety of feminist issues, like reproductive justice.  Miriam has extensive speaking experience, and uses an informal and conversational style to talk about a wide variety of topics.  Miriam has spoken at over 60 colleges, universities and conferences around the country.