In light of the current weather, I think I speak for the entire Northwestern population when I say all I want to do right now is head home and hang by the pool. Two little things called "reading week" and "finals week" plagued with papers and projects prohibits me from doing that here with the freedom of relaxation.
For this week, I used my desire for summer and all its sweet smells and flavors to create a refreshing fruit salad. Each bite has a little taste of coconut-lime with a hint of crunch from roasted almonds and macadamia nuts. It's super easy to prepare and pulling this out of the refrigerator for a mid-afternoon snack makes this salad a perfect hot, sunny summer day refresher.
Ingredients:
3-4 Cups Fruit (I used pineapple, kiwi, strawberries and raspberries)


Roasted Macadamia nuts and Almonds, Chopped
¼ Cup Coco Lopez
2 oz. Cream Cheese, softened
1 ½ tsp Lime Juice
1 tsp Honey
Directions:
Cut all fruit into bite-sized pieces and place in a medium bowl with chopped almonds and macadamias. Mix well. 
Combine coco lopez, cream cheese, lime juice and honey in a separate bowl. Mix well, ensuring that there are no cream cheese lumps in the finished product. (You may need to taste the sauce and adjust lime juice and honey ratios – I liked it with more of a honey taste than a citrus one). 
Add sauce to fruit and mix well, ensuring it is evenly spread throughout. 
Let chill in the refrigerator before serving.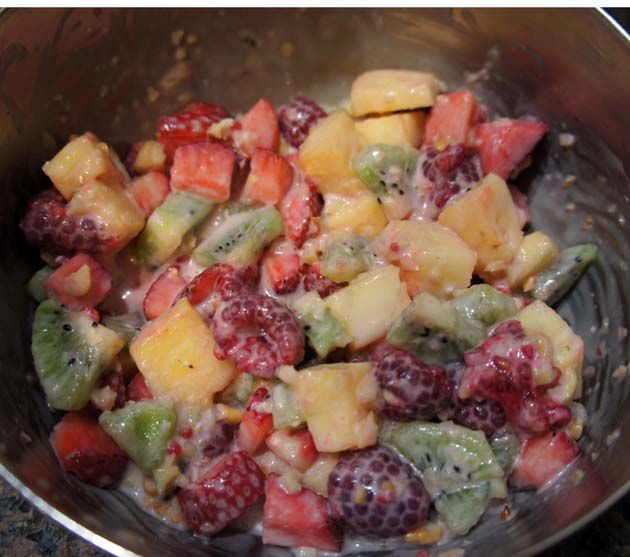 You Might Also Like...