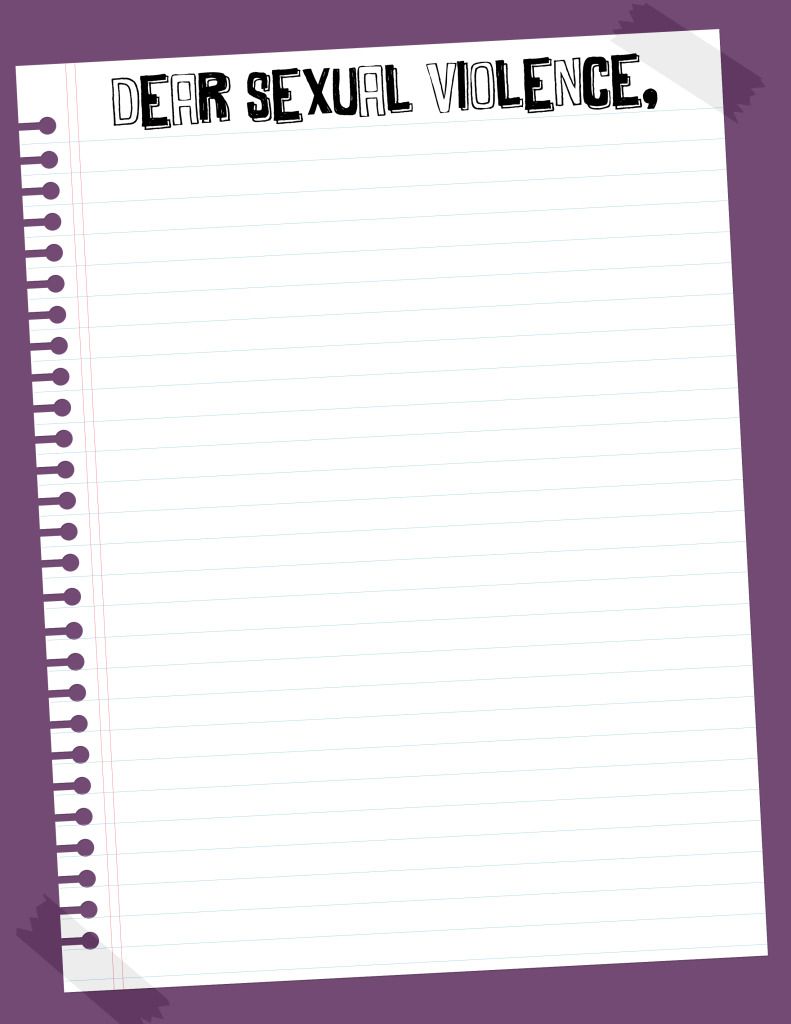 Dear Sexual Violence,
               
It seems like only yesterday you were a high school joke; something my sex-ed teacher tried to make serious but never really succeeded in. But you taught me a lasting lesson yourself, one I won't soon forget, no matter how hard I may try.
               
I was hurt and weak when you found me, the most vulnerable I'd ever been. I was new to college, newly (and unhappily) single, dealing with an eating disorder and frankly a mess. You found me easy prey. You came to me in the form of a boyfriend who thought that paying for my dinner or my pancakes or coming to my choir concert meant he was owed sex. A boy who thought it was ok to use me for my body and mask it as love-even though we'd only known each other for a month.  A guy who flung me into positions and forced me into situations that made me sick.
               
I blame myself some, sexual violence, for letting myself feel weak and cornered, for allowing my first time (and second and third….) to be something I'll always regret and shy away from. And now I'm angry at myself for that blame. Because no matter how many times I reassure myself that it wasn't my fault I still grasp at straws and excuses and reasons for you. But sexual violence, you don't deserve any excuse, ever.
               
I tried to be strong. I tried to throw you off, to escape your gaze and sneak away to heal my pain. But you weren't going to let me off easy. I broke up with you, boy. "Does that mean we can't have sex?" he asked. I refused, but like smoke he (and you sexual violence) found every minute crack you could and wound your tentacles around me so tight I thought I would suffocate.
               
But somewhere inside me, a place you hadn't touched sexual violence, I found my strength. I ripped out your physical presence, but there were traces of you all over my mind, polluting my thoughts and my self-image.
               
I can't say you left me alone after that but I think I was better prepared, as for the rest of the year you tested me again and again although I never let you get so far again.
               
I put you away in a box for the summer but once again you reared your head. As a peer adviser I watched the Student Body performance during PA training and I remember holding back tears and running to the bathroom sick to my stomach. I was finally forced to face you, and with a friend's help I admitted what had occurred and finally absolved a portion of my own guilt.
               
You can't touch me now sexual violence. My boyfriend now, he's incredible. From the first time we slept together I felt safe, I felt loved and I've never felt used. With him communication is never a problem; with him sex is making love and not "fucking."
               
I'm through with you sexual violence.  As Katy Perry sings: "Throw your sticks and stones, throw your bombs and your blows, but you're not gonna break my soul, this is the part of me that you're never gonna ever take away from me."
 
 
You Might Also Like...