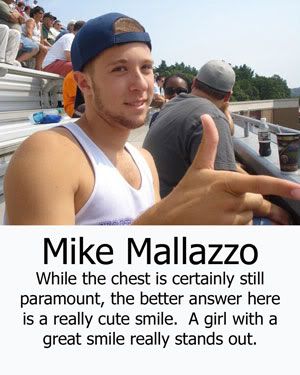 I'm Back Ladies, 
Hope you missed me. Natty lights were half off at Jewel and American Eagle had a two for one sale on polos last week so the bro blog had to go on a quick hiatus. Just kidding, I had midterms but I know that the bro blog should always be my second priority (after remembering to call my mom) so I'm back to answer reader questions!
We were asked what the etiquette is for asking out a guy that you intern with as one of our readers was fortunate enough to find a true pearl amongst the oysters of corporate America. First off, I approve of office romance as it worked out so well for Jim and Pam that I believe this crush has to be pursued. Though offices don't seem like aphrodisiacs, it is a proven fact that second to teen sleep away camps, college internships are society's breeding grounds for attractive and intelligent students. Therefore, the odds are clearly ever in your favor here. But since Prince Charming doesn't look like he's going to move first, this is a case where it is up to you not just to drop hints, but to actually cross that threshold and make the first move to secure that you find love in what seemed to be a hopeless place.
Many girls wonder if it is acceptable for them to make the first move and the answer is an absolute and definite yes. While, it is best to simply flirt and try to bait the boy into pulling the trigger, some guys are shy and others just don't pick up subtle clues. And if there is one thing that this bro blog better have taught you, it is that girls with self-confidence can be undeniably sexy. If played well, a girl outright suggesting a date is perfectly cool. If this seems too bold for the situation a simple phrase such as "hey come grab drinks/coffee/dinner this Friday with me" works wonders. This creates uncertainty in the guy's mind as to whether this is a romantic advance or just something to be done as friends but either way he'll feel comfortable. Now you'll have the opportunity to read his body language and see if he's into you and send signals to let you know he's your guy. Most likely, an invitation for a first true date will follow from him but if you lose patience, this is a great opportunity to make your move.
Two decades from now, you will likely be married to a great man and live in a nice house with a kid that is captain of his school's baseball team. But as you turn 40, you will look back on that cold, sexless summer that you spent before your 21st birthday dreamingly staring down that hot intern who went on to become the next Johnny Depp. And you'll sigh knowing that if you had just asked him to grab Starbuck's, you could have the best story to tell the moms at soccer practice. So find the courage to ask be the girl that boldly asks the hot intern out and I guarantee you'll reap the rewards for the rest of your life.
Don't get a tramp stamp for your 40th birthday,
Mike
 
Ben's got something to say... keep going!!!

Pages
You Might Also Like...