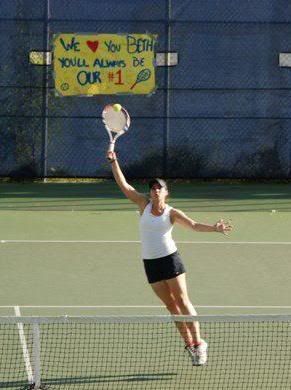 With her killer forehand, perfect placement, and ace serves, Beth Larson is one opponent you don't want to mess with on the tennis court. Not only has she been named the LU Women's Tennis Team's MVP for three years running, she has also been on the Academic All-Conference list for two years as well as the Dean's List for three. Beth has made a huge name for the tennis team by winning the conference tournament at the number one singles position both her freshman and senior year, and she has shown her versatility within her sport by winning the conference tournament at the number one doubles position with her partner, Jenni Roesch, two years in a row. Following in her older sister's footsteps, she started playing tennis when she was only four and has grown to have one of the most well-rounded games in the Midwest Conference. Although she has extensive experience in every aspect of the game, she says, "I love being at the net and volleying, however I would say that the strongest part of my game is my serve."
 
In addition to her position as captain on the women's tennis team, Beth has also been both the president and vice president of her sorority, Kappa Alpha Theta, as well as a co-chair of SAAC and Motar Board. She is very involved on campus and truly defines the word "multi-faceted." Despite her vast array of accomplishments, Beth maintains a humble, unassuming attitude and has always provided a wonderful support system for her teammates. A freshman member of the tennis team said, "Beth is incredible – she has been a great leader and has made all of us freshman feel so welcome on the team. Some athletes with her credentials would let it all go to their head, but Beth is always encouraging and so dedicated to the team as a whole." When asked about her goals for the rest of the year, Beth replied, "I want to continue to strive academically, and I want to continue to play tennis even though I'm not in season.  I also need to win a few more matches to have the most wins in the history of women's tennis at Lawrence, so it would be great to be able to get that record during the spring season."
 
Beth will be greatly missed on the women's tennis team next year, but we wish her the best of luck with her future endeavors! 
You Might Also Like...