This week's campus celebrity is Khaleef Smith. Khaleef Smith is a Junior IUP Business Major who takes his business knowledge far beyond the classroom. Since his freshman year, he has been dabbling in many different business ventures on campus. If there is an opportunity to make money or help someone else make money, Khaleef is the guy to make it happen.
Khaleef was born in North Philadelphia. From the time he was a kid he was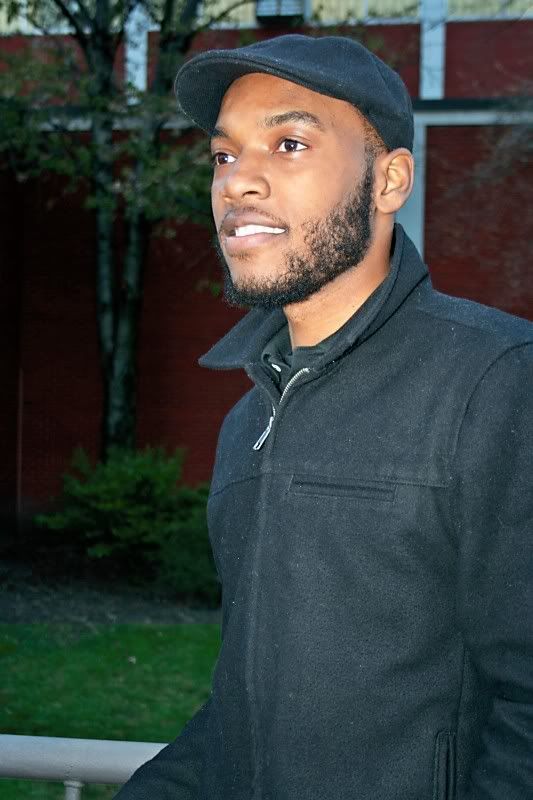 always finding ways to market himself and his ideas. In middle school, he would bake cookies and sell them to his classmates. Says Smith, "My advantage was that I knew how to bake them in a way that they would remain soft the next day."His business didn't stop there; he was always able to identify an open market.
"Anything that needed to be sold, I sold it," he says.
 Once he started attending Central High School, he would buy big boxes of candy from BJ's, a wholesale store, and bring them to school to sell to his classmates. When he entered college at Penn State Altoona he was always traveling to visit his friends at IUP—something that ultimately influenced his decision to transfer there the next year. The summer before his first year at IUP, Khaleef had an idea to create a place where IUP students can go online to eliminate their boredom. Two days after thinking of the idea he purchased the domain name for the site on August 17, 2010-- I-U-Bored.com.
When Khaleef first started the site, it was intended to entertain IUP students by relating all of the content to what was going on at the IUP campus. After gaining views from other schools, he then expanded the content so that the information on it was relatable to students and people on any campus nationwide. Today the site is comprised of many different pages that offer entertainment suitable for anyone. One of the feature pages is "The Blog Vids", a page that offers blog articles written by Khaleef and some fellow students. It also features videos that range from humorous content to serious news issues. "The Buzz" is a feature page on the site that allows artist with positive messages to post and promote their work. There are also pages on the site that allows viewers to play fun games and watch full-length movies.
Viewers can engage in a discussion about current events, shop, follow world news, watch music videos and more. The variety of content available on this page is enough to keep anyone entertained, because it was designed to meet everyone's needs. Today the site has received 11,000 views, is still up and running, and is becoming very popular among students.
           
Though it might seem simple getting to this point wasn't always an easy road.
" In the beginning I would become frustrated very easily because I was running the site alone, and I wasn't receiving many views. Marketing the site was difficult at first because I had to keep finding new ways to engage people or get their attention. Sometimes I would ask myself what was the point of it all?"
The discouragement never lasted long for Khaleef, as he is very self motivated. Being raised as an only child he learned to stand alone very early in life. He holds himself to a high standard and refuses to give up.
"Failure doesn't mean stop, it means try a different approach."
This quote has been the reason he is successful in all of his business ventures thus far. Whenever one thing doesn't work, he doesn't settle until he finds a way to make it work. Though he may seem like a one man show, Khaleef, has many supporters in his corner. His mother was always pushing to be the best in every situation. She saw the potential in him for an early age, and refused to let him be average in anything. She held him to a very high standard all of his life and eventually he began to hold himself to a high standard. His aunts and uncle have also been big supporters in his endeavors, always being there to lend him emotional and financial support, and believing in his ability achieve greatness.
His biggest motivator during good and bad times is his late father, who passed away when he was eleven. Says Smith:
"It becomes difficult not having him around to share in all of my experiences and success because he was my best friend, but through it all I am motivated by his memory and his confidence in me. Everyday I strive to be all he wanted me to be and more."
Aside from the site, Khaleef has many more businesses that he constructs on the side. He picked up a trade of cutting hair when he was younger and has mastered his craft, making him one of the most sought out barbers on the IUP campus. He also bought his own equipment to make t-shirts for local businesses and students. In the summer he organizes field trips to Wildwood and other events for the community to get involved in. Honestly, there is nothing that this young man doesn't do. He cites the reward for all of his hard work as seeing how many people support and view his site.
Also, he is grateful to the people who believe and invest in him. The fact that they see something in him, and see his potential, reassures him that he is doing great things--it makes him want to work harder.
Looking back on the last few years, Khaleef has reached many of his goals; however, he says he doesn't plan to stop there--in the future, he plans to expand the site to appeal to post-college professionals. He plans to own his own consulting firm. He wants to turn his name into a trusted brand for marketing and he plans to build his credibility within the business world to be successful.
He is motivated by the success of many people, but the top three professionals who inspire him are Donald Trump, who he says that "no one can name only one thing he does because he is involved in everything. He is successful because he explores every market." Another inspiration, Jay-Z, finds his way into Smith's life because "he is a business all of his own.". Finally, his god brother, IUP Alum Jovan Diggs (05), whom Smith says "is always encouraging [him] to pursue everything that [Smith is] interested in."


Khaleef's advice to his younger peers in his field is:
"Never fear what you may think is impossible. The hardest thing about doing anything is to start, once you start you can only build upward. Surround yourself with positive people who will encourage you, and always separate yourself from narrow minded people who only think inside of the box."
In his spare time, Khaleef likes to entertain his peers by throwing parties and events. He likes to get involved with acting and he is also a host on and IUP television show, Urban Superior. He enjoys fishing and improving his hair cutting techniques. He also likes to hang out with his friends, collect model cars, and watch television. He likes to experience new things for himself and network with interesting new people.
To keep up with Khaleef, request him on Facebook Khaleef 'Success' Smith or check out his blog site IUBored.com.
 
            
You Might Also Like...