Her:So I haven't heard from you in a while
Me:Can't stop thinking about me huh?
Her:You wish, something smelled bad in the trash and I thought of you
Me:Not surprised, you are a pretty filthy girl
Her:Only in bed
Me:Yeah maybe we will have another shot at that sometime. (If you are lucky)
Her:I wanna be lucky!
Me:I used to have a dog named lucky, if you want… I still have his collar
Her:Ruff Ruff!!!
Me:I think I might have to keep you away from the cat box
Her:ROLFL, shut up! That is so gross! My dog does that all the time.
Me: Okay, lucky the dog. Beg for me and I will see you on Saturday
Her:Already on my knees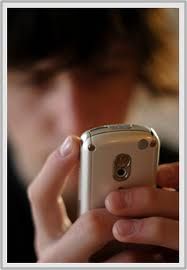 The conversation above, which appears on http://sextingexamples.org/, is an example of one of the latest (and perhaps the most provocative) trend to hit the Internet: SEXTING! What is sexting, you ask? According to Wikipedia, sexting is "the act of sending sexually explicit messages or photographs, primarily between mobile phones."  In other words, it's sexual flirtation done over the phone.
Nowadays, with almost everyone having some sort of access to technology, things such as sexting are becoming hugely popular because everyone can participate. The problem with sexting, however, is that not everyone is smart or mature enough to properly sext. Honestly, how many times have we heard of someone's private pictures being leaked to the public? With that in mind, after doing some internet research, and talking with a few friends, I have compiled a list of 7 sexting tips that are sure to keep you out of trouble, as well as make sure the job gets done.
Pages
You Might Also Like...