8.)    Lunges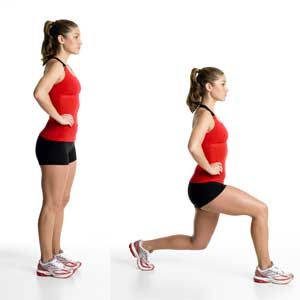 Great for trying to get a fab butt!
1.) Start with your feet together (you can keep your hands on your hips for balance)
2.) Lift your leg of choice in the air bending your knee
3.) As you step forward into the lunge, make sure that the downward movement of your   hips is towards the floor. Make sure that your heel touches the ground first before your toes.
 4.) Continue lowering your body to a comfortable position. Your front leg and your back leg should be at least 3 feet apart. If you're feeling a tight pull in the calf of your back leg you are doing this correctly! Keep your back straight.
5.) Push off with your front leg to return to the upright position in which you started in
6.) Repeat step three using the opposite leg
 7.) Try and 2 sets of 25 reps
9.)    Mountain climbers
Mountain climbers target your leg, feet and core muscles. Be prepared to sweat your butt off! Find a smooth section of grass or turf.
 
 
1.) Start with your feet together and your hands by your side
2.) Bend down and put your hands shoulder width apart on the grass or turf
3.) Place yourself in a push-up position
4.) To start, bring your left leg forward to your chest and back to its original position. Your right leg should stay tucked during the forward and back movement of the left leg.
5.) Once, you feel comfortable, switch legs rapidlylike you are "climbing a mountain"
6.) Try to do for 1 minute
 
10.)    Run or walk on the track
There is nothing better than getting some fresh air after a busy day of classes and work. Instead of using the treadmill at the gym, try running or walking on the track! There are several exercises that you can do on the track that are just as effective as running or walking on the treadmill. Here are my top three!
1.)    Straightaways: Sprint/jog the straight part of the track (0-100 meter), jog/walk the curve part of the track. Continue this around the track.
2.)    Run/walk a mile: Four laps around the track
3.)    Ladders: Sprint 400 meter (one lap), sprint 300 meter (three-fourths of a lap), sprint 200 meter (one-half of a lap), 100 meter (one-fourth of a lap)
 
What are you waiting for? Now it's time for you try these exercises out. Get outside and kick each of these exercises' butts! 
Sources:
Pages
You Might Also Like...