"Going the Distance" with Jason Long and Drew Barrymore is a hit movie about long distance relationships with a sweet and happy ending…but real long distance relationships don't always end in a "sweetly". 40 percent of long-distance relationships fail within the first 4.5 months. If that's true, then are they worth it? Is the relationship worth if you can't see your boyfriend or girlfriend on a regular basis? Yes, they can be.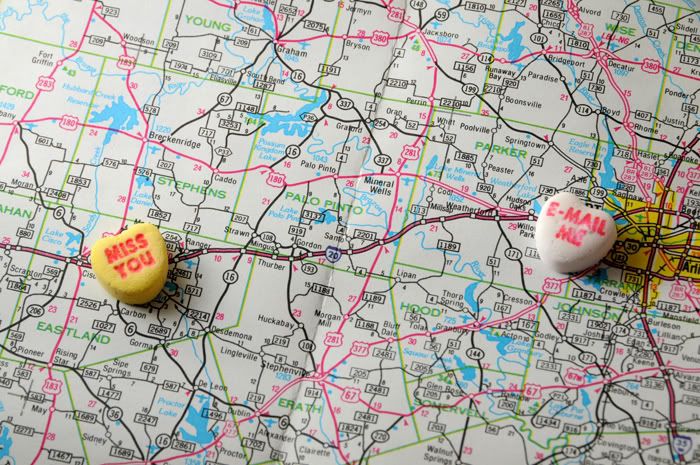 But if there's love, anything can work, right? Wrong! You need more than love to make a long-distance relationship work, love is there, yes but you're going to need more than that. Long-Distance relationships are hard but can be very rewarding. Here are some tips on how to make it work.
 
1. Texting
 Everyone is busy nowadays, and texting is quick and easy. Texting is a must in long-distance relationships because you might not get to talk on the phone until later in the evening but with texting, you can communicate and talk all day. Kat Boyd and her boyfriend have been together for 3 years, and she says that texting is a needed necessity.  "My boyfriend and I text all the time. It's what we do! We send each other love messages or funny things or just tell each other what we're doing from time to time. It makes me feel like we're not so far apart."
 
2.      Talking on the Phone
 
Talking on the phone is a must because sometimes you just need to hear the other person's voice even if it's for a minute or two. It's one of the main sources for communicating, and this will really make long-distances relationships work. It can get expensive however, if one of you are overseas, but there are cheaper options like calling cards, Google Voice, and Skype Calling as well.
 
3.      Phone Sex
 
As human beings we are sexual—we need sex for survival. When you're in a long distance relationship, you're probably not having sex on a regular basis. And sex is one of the main elements on why long-distance relationships don't last. We want sex, but can't get it. This is why phone sex is a godsend, if you do it right. Good phone-sex can leave you just as satisfied as the regular thing—especially if you're a female and use sex toys, and if you're a male and use an enhancer or special lubrication while doing it.
 

Pages
You Might Also Like...