Spring Break is right around the corner, so close you can taste it…kinda like that chocolate you've been depriving yourself of to get vacation-ready. The guy that works at Campus Fresh now knows your smoothie order by heart since you stepped up your HellWell game and the Relaxed girls don't even have to ask how many minutes to set your tan for – in short, all of your preparations for Spring Break have come to a head. Now it's time to get in some last minute shopping. All of the gym hours and calorie cutting won't be worth it if you don't have perfect bathing suit to compliment you're newly toned figure, right? There's only a couple more days left!
No matter whether your swim attire includes a bikini, one-piece suit or even a monokini, the trend for this spring and summer is definitely neon. The brighter, the better – this look is definitely not for the shy. Neon looks best when color blocked and paired with one or two other colors only…busy neon patterns end up looking like you let a kindergartener highlight your clothes. Target has this great basic pink coral and black bandeau top with removable straps ($11.99). Just the right touch of black ties the other two bright colors together. Want a bit more drama? This Free People fringe top in citrus is perfect for the beach and also comes in black if you wanna stick to the basics ($78). Neon colors aren't just for tops either - I love this O'Neill bikini bottom from PacSun ($29.50). As an added bonus, a great neon suit is guaranteed to bring out the best tan in even the lightest of us!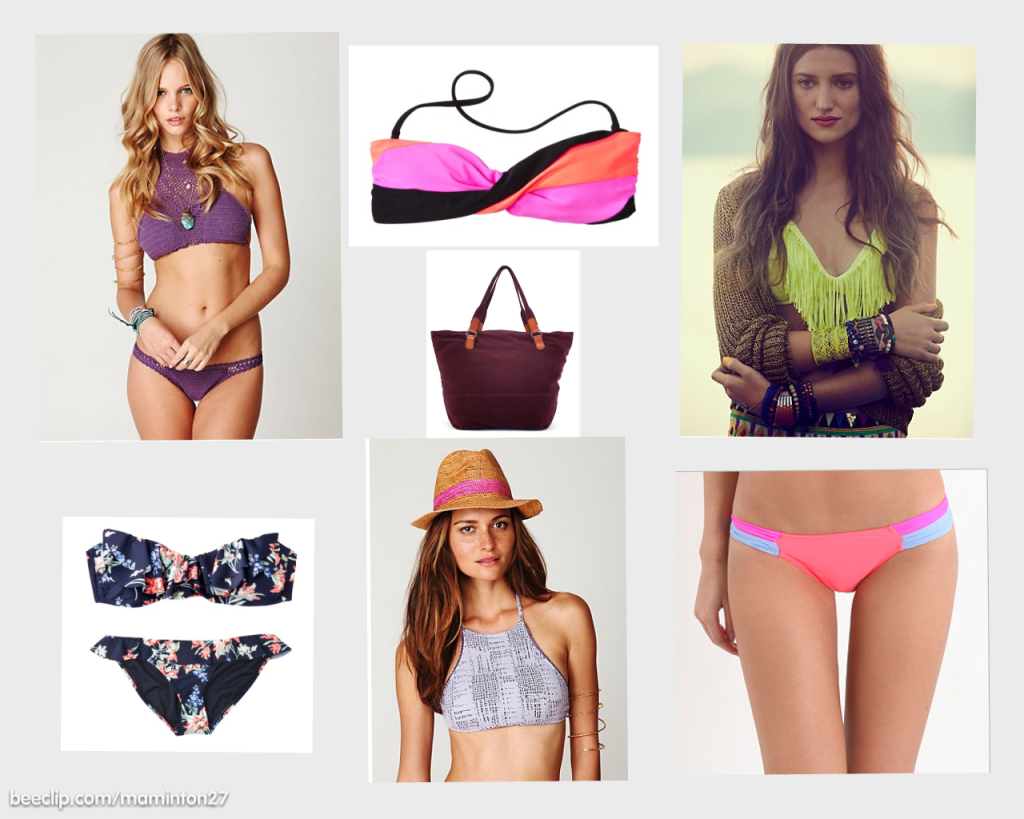 Another awesome look is a printed swimsuit which, when done right, will always look great. If you're feeling adventurous try a big print like this deep V one-piece from Urban Outfitters and you'll be sure to stand out in the sand ($62)! If you're shy when it comes to prints, you can never go wrong with florals in the spring or summertime and this bikini from Target is no different (both top and bottom for $9.98 each). As long as the background is a darker or neutral color, feel free to combine the neon and printed trend!
While I'm all about getting an even tan with no weird tan lines, sometimes you have to throw on extra sunscreen for the sake of fashion. I'm talking about rocking some uniquely cut tops like a high neck! This Free People high neck bikini is a cool twist on a normal bikini top and will definitely get you noticed for all the right reasons ($88) – I'm obsessed. Free People also offers this fabulous crochet top and bottom in black white or, my favorite, purple (both top and bottom $75) each. Both of these suits have convinced me I need a high neck bathing suit top in my life ASAP.
Of course no trip to the beach would be complete without a great loose cover up or huge tote to carry around all of your essentials (both $72). Think bigger, better, brighter, and bolder for this Spring Break and the coming summer months! Personally, I am beyond excited that winter seems to have skipped us this year and summer is closer with each day. So this spring break be safe, have fun, and of course stay fashionable as always!
You Might Also Like...