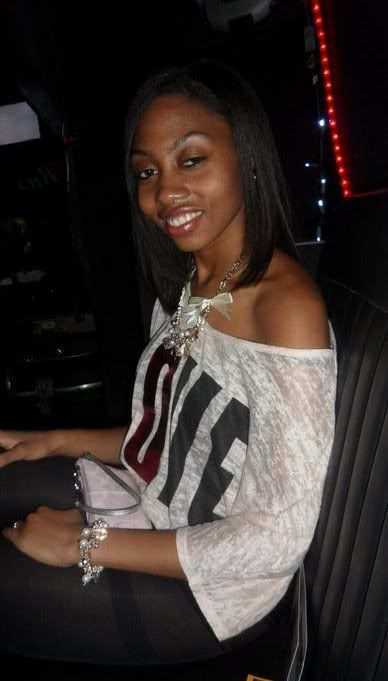 Name: Robyn Graves
Major: Business Administration
Relationship Status: Single
Campus Involvement: National Council of Negro Women, SGA Correspondents, and Lady Rattler Bowling Team.
HC FAMU: What do you do to unwind after a crazy day?
RG: Listen to music, go to the bowling alley, write poetry or read.
HC FAMU: What do you want to do after graduation?
RG: I would like to work with a sports team or corporation in their sports
management or marketing department. And, ultimately open up my own sports marketing
agency.
HC FAMU: What is the worst pickup line you've ever heard?
RG: "Aye red!" Or, my favorite - if he knows my name he'll be like "Can I be your batman?" Like
really? [Laughs]
HC FAMU: What is the most romantic thing someone has ever done for you?
RG: For my 17th birthday my boyfriend [at the time] threw like a surprise party for me. Nobody
was talking to me for the whole entire day, and I'm like "Ummm….what's going on? I guess I'm
just by myself on my birthday." But, then I walked in the house and they have this birthday
party! [My boyfriend] wrote me this poem and got me this huge teddy bear. It was crazy!
HC FAMU: Is it smart to be friends with an ex?
RG: It depends on what type of relationship you guys had. If you were really strong friends
before, then hopefully you guys could go back into that. But if you weren't, then it just makes
everything kind of awkward.
HC FAMU: What do you do in your spare time?
RG: I read, surf the internet, listen to music, watch TV, hang out with friends….. Fuss at my
roommate! [Laughs]
HC FAMU: What is your top turn off?
RG: Having bad breath, and not having a relationship with God.
HC FAMU: What was your most embarrassing moment?
RG: It was in middle school; I tripped and everyone started laughing. I can be clumsy
sometimes.
HC FAMU: Who is your favorite singer?
RG: I'm old school so I would say Aaliyah is my all time favorite.
HC FAMU: How would you describe yourself?
RG: I'm complex. I can have fun or I can be serious. I just feel like I have a great
personality. I'm kind of all over the place because I have interests in everything.
You Might Also Like...