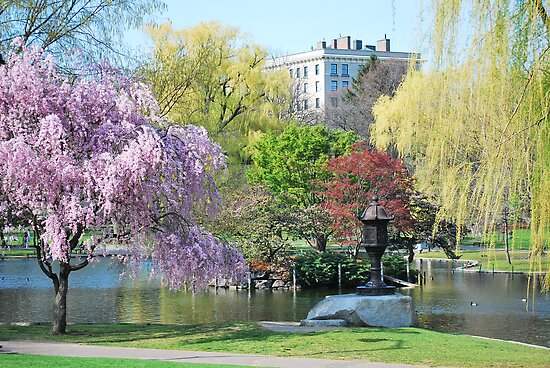 It's springtime, Collegiettes! You know what that means—plenty of sunshine and… finals. With all this warm weather comes a stack of papers to write and projects to complete. However, don't lock yourself away in the library just yet. There is a way to soak up some much needed vitamin D and still pass your classes. Sound too good to be true? Yeah, we thought that too.
Dreading the thought of your ten-page paper due next week? Well, the good news is that your dorm room isn't the only place with free Wi-Fi. Grab your blanket and your schoolwork on your way out to the Boston Common. Don't think you have enough self-control to get your work done outside? Learn to keep yourself in check. Make ten-minute playlists on Spotify before heading outside. Give yourself a break every time one of your playlists ends. Distracted by music? Then try pacing yourself based on your page count. For each page you cover, treat yourself to a few minutes of people watching. Who knows? You might just spot someone who will inspire your next paragraph.
Have a "new-age" teacher who is really trying to connect with their students? If so, then you were probably assigned the "creative project." Who has time to write a collection of poems about photosynthesis or film a short documentary on the urbanization of an ant colony? We know that we don't. However, don't stress. Make a photoblog. Boston is one of the country's most historical cities. There is inspiration all around you. Have your friends act as models as you explore the city. You'll have a blast and finish your assignment.
Hopefully, you have the college student's dream of the "group project" final. Yes, it's a little bit more work, but at least you have partners to complain about it with. Before you begin your PowerPoint or bedazzling that poster board, first hit the Boston Public Gardens with your partners. Why spend all your time planning out your project inside? Bring the books outside. Being surrounded by nature will get you and your partners' creative juices flowing and lessen everyone's anxiety.
It's finals week, not the end of the world. Take a deep breath and head outside. Who says you can't make great grades and have a tan? As Twitter always says, "If Britney Spears can survive 2007, you can survive this week." Good luck on your finals, Collegiettes! 
You Might Also Like...