Mike Sampson is from Kennebunk, Maine. He's a 21 year old film major at Emerson with a laid back sense of humor and a kickin' Instagram. (The man can cook.) Oh, and it might be worth mentioning that he's one of the lead singers of The Civil Slingers, an up and coming rock band here in Boston. The band, which includes musicians, and Suffolk students, Joseph Aaskov (vocals and drums) and Sean Taggersell (base) is currently signed with Wax on Felt Records, and is recording and producing an album with them, out in April. With the aid of Wax on Felt and a devoted fan base, the Slingers are slowly but surely making their way up in the Boston music scene. This Saturday, April 7th, they're opening for Howler at the Great Scott in Allston. It's a 21+ show and tickets are only eight bucks, so definitely come and show your support for one of their biggest gigs yet! Want to learn more about the band? A few days ago, Her Campus sat down with Mike to get a little nosy about the bands history, their influences, and the inspiration for their catchy name.
Her Campus Emerson: How did The Civil Slingers form?
Mike Sampson: Well Joey, Sean, and I have been in school together since the 6th grade, and we've always played music together. After my freshman year of college, I knew I was taking a year off so we decided to start playing a little bit. We actually formed two days before our first show! We basically formed because someone said "Do you want to play in my barn?" so it was kind of impromptu, but we've always played together.
HCE: Where did the name come from?
MS: Not really anywhere. Joey and I were just texting ideas back and forth and it came out of a bunch of half names. It sounded cool. Originally we were Jameson Cranewath and The Civil Slingers, but then we thought that people would be like who the heck is Jameson Cranewath, so we dropped it.
HCE: Who is it?
MS: (Laughs) Just some dude. Just some guy.
HCE: Who would you say are the bands biggest musical influences?
MS: Well, I grew up listening to a lot of jazz and blues. John Lee Hooker, B.B. King, Dave Brubeck, so that's been a big influence. When I started hanging out with Joey, I started listening to more country like Johnny Cash, William Jennings. The Civil Slingers is a mix of a lot of different things since we all listen to everything, so there's very little that doesn't end up in our stuff.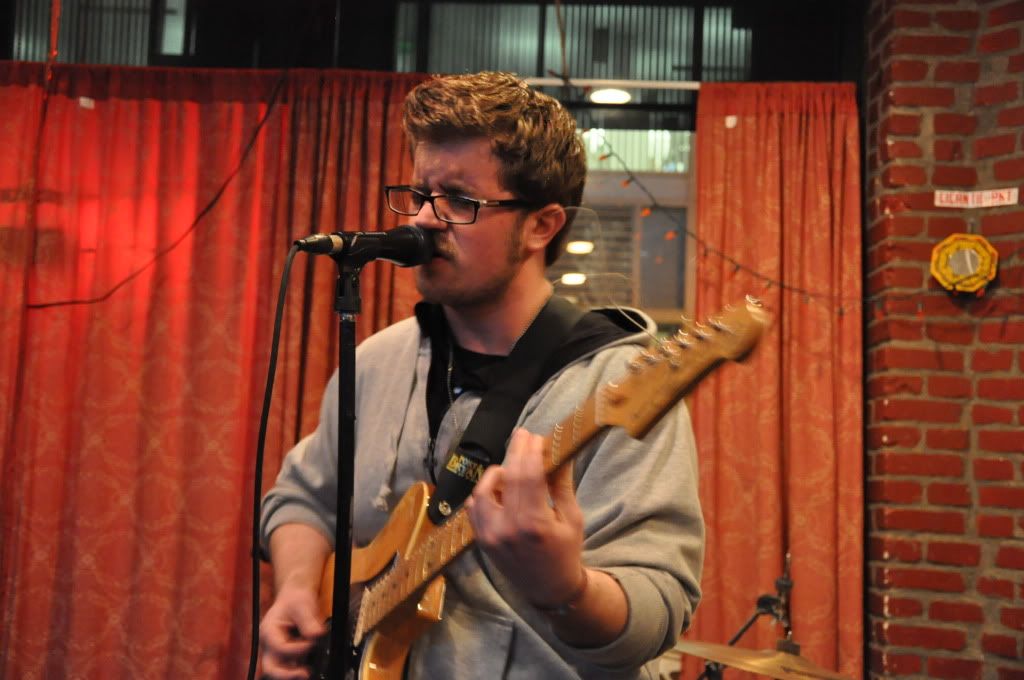 HCE: Who is the main lyricist?
MS: Joey and I split up the lyrics. We try to keep it even, both of us have five songs coming out in the next album. It's a pretty separate process overall. We write our songs and then we teach each other, maybe do little tweaks here and there.
HCE: If you could add any one famous musician to your band, who would it be?
MS: That's a tough one. I don't want to just throw a name out there, because this is serious. Serious business. I'd say our sound is a mix of Jack White and Deer Tick. We shoot for dirty, so Jack White wouldn't be far off the bat. I could see Pete Seeger with us. He was a banjo player, and I feel like if you put him through some heavy distortion pedals on his banjo, it'd sound really cool with the Slingers sound.
HCE: Well this one is also kind of tough. If you could open for any band or musician, who would it be?MS: I think, in terms of just where we would fit, I would love to open for Deer Tick, to be realistic.
HCE: And if you don't have to be realistic?
MS: I mean shoot for the top! Probably The Black Keys.
HCE: How has Wax On Felt aided you guys these past few months?
MS: Wax on Felt has been awesome. We're recording an album with them, so they set us up with an awesome engineer, Collin Batty. He's awesome. Everyone's awesome. Montana's been a big help. They've been great with providing us with art, and booking us places. They've pretty much done everything we wouldn't have been able to do for ourselves.
HCE: Where do you see The Civil Slingers going in the future?
MS: I'm up for taking it wherever it can go. We all have a lot of fun doing it, and that's pretty much what matters, so as long as we're having fun it doesn't really matter where we end up.
Like The Civil Slingers on Facebook for the latest updates and shows! http://www.facebook.com/thecivilslingers
You Might Also Like...