I've been a freshman at Elon University for about five weeks, and looking back at my first month at Elon, I've begun to realize how much, and how little I know about college life.  At home, I was basically an only child. (I have two grown half siblings.) From the moment I set foot in my suite, I realized that I was going to have to get used to compromising space and quiet time. The days of being an "only child" were long gone - I had acquired nine new roommates! I had to adjust to the fact that I needed to be considerate of their needs, instead of mine alone. I have to admit, I had a hard time sleeping the first few nights because of all the extra noise. That's another thing to remember; not everyone has the same sleep schedule (investing in a nice sleep mask was a good idea). It took me a little while to realize that I didn't have to be "best friends" with everyone I was living with. However, it is best to try to be civil and respect one another since you have to live together for nine months. But at the same time, it's been nice having a group of girl friends to come home to at the end of a tough day and talk to.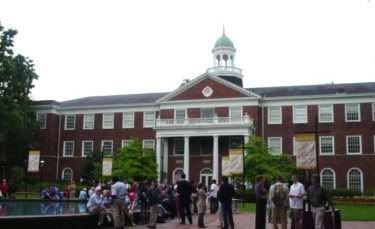 Though I've been at Elon for five weeks now, I'm still trying to figure out the perfect balance between academics and social life. The organization fair was filled with an array of rainbow-colored flyers and cookies, which enticed me to sign up for many clubs. I've come to realize that I can't participate in every organization that Elon has to offer and that I had to narrow it down. But at the end of the org fair, I realized I still needed time to complete work, which is why it's a good idea not to rush into every organization your first semester of college. Spend some time getting accustomed to college life. (Highlighter party anyone?)
Between running from the dorm, to class, the dining halls, and school events, the weather is going to get in the way. Unfortunately, I found that out the hard way. North Carolina randomly decided one day to have about twoweeks of rain, off and on.  My trusty rainbow polka dotted rain boots were on the other side of campus, safely tucked away in my dorm room, when out of nowhere, it started raining cats and dogs. Needless to say, I had two showers that day. Of course that would be the day when I forgot to check the weather forecast.  Since then, I've checked the weather everyday. The plus side of rainy days has been accessorizing my clothes with my dotted rain boots, umbrella, and coordinating raincoat. Might as well make the most of all the rainy college days ahead!
You Might Also Like...