Courtney Wittekind: Studying Abroad Between Countries
When we think of college students studying abroad, romantic images of Spain and Germany usually come to mind, places where students can find plenty of relaxation and exciting nightlife, too. And then there are students like Courtney Wittekind, who break with everything we think we know about study abroad.
 
From June through December last year junior BXA student Courtney Wittekind spent her semester abroad working with refugee children on the border of Thailand. Courtney researched the changing cultural identities of refugee children as they adjusted to life in Thailand by leading art workshops and a photography project. Not only did Courtney get to make art with little kids, butshe also gathered tons of data for her BXA capstone while doing it. Sweet, right?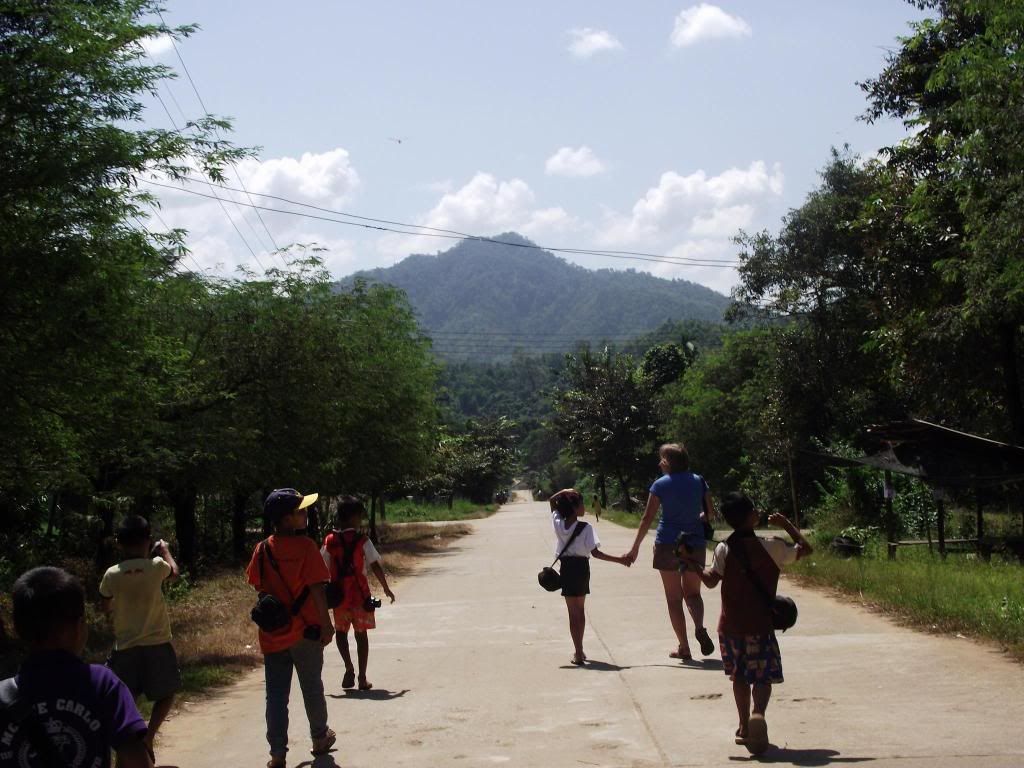 Courtney's nontraditional semester abroad may have been satisfying on many levels, but it sure was difficult to plan. Since Courtney aimed to conduct intensive research, devising Courtney's semester abroad was more intricate than designing the typical study abroad program. Rather than choose a study abroad provider in her host country, Courtney had to seek out and develop relationships with community-based organizations to partner with as well as find a host university to give her legal student status in Thailand.
For this reason many advisors and professors helped Courtney devise her own research project and receive funding for it, too. "BXA is really great about accepting different paths," Courtney said of her academic department. For her diligence and amazing research proposal, Courtney received a NSEP Boren Award for International Study, a scholarship that helped her buy much-needed materials for the photography workshops she was to teach.
 
Courtney's planning process didn't end with securing funding—she also had to assure CMU faculty that, as war-ravaged as neighboring Burma was during her semester abroad, she would be safe working at the Burma-Thailand border. Burma has a long history of civil war, oppression, and ethnic clashes. The government had established "black zones," or areas within minority states where the military could legally open fire at any time, without warning. Many of the children Courtney was to be working with originated from these black zones, especially those from Burma's Karen and Mon states.

Without the political unsettlement, though, Courtney's work would have been unnecessary. So in June she set off for Thailand and what would amount to quite an adventure and learning experience. Courtney began her semester conducting art lessons at two boarding house programs for refugee children. "For whatever reason, the students are not safe where they are from, so they go to these refugee programs so that they can go to school," Courtney said of her students, aged 6-16. She started her lessons off with the familiar: discussion and drawing.
 
"It was really like a club. I feel like kids are very malleable, so I didn't want to put my ideas about art onto them. I left it really open," Courtney said. The first assignment Courtney gave her students was to "draw somewhere that feels like home to you. It doesn't have to be your current home, or anywhere you have ever lived. Instead, it should be somewhere you feel like you belong." After leaving their villages behind and crossing the Thai border, these children's sense of culture and origin was constantly molding. By asking questions about origins and migration, Courtney was able to observe how the children interpreted their personal cultures in their art.
 
"You're from Mon State and you come to Thailand. Maybe you're not surrounded by people from your community. Instead you are surrounded by people who are Karen or Burmese. On top of that you're going to Thai school. I was curious to know how much of your own history and knowledge about your language and your family you still identify with," Courtney said.

Courtney's students drew responses to her discussion topics. This student's caption says, "This is my house on the right, in the village where I am from in Burma. We grow rice, and also trees there."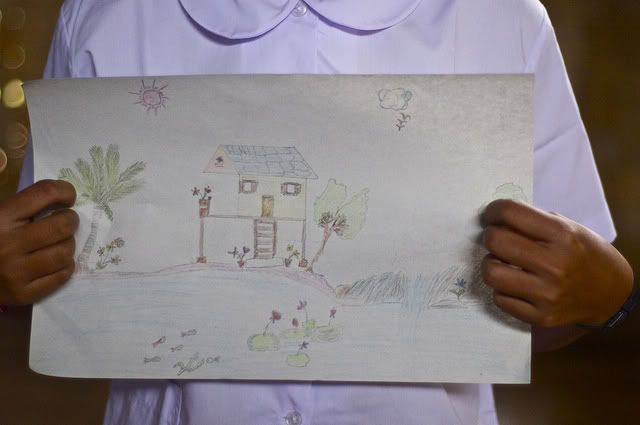 "This is a house on the seaside. I've never been to the seaside, but I dream about it. I think that I would like to live there." 
Courtney saw one example of the students' sense of identity when she asked them to draw their culture. Though they originated from different ethnic groups and different states, almost all of Courtney's students drew Thai flags. Courtney realized that, unlike people from other cultures, her students didn't feel the need to carry their heritage along with them into Thailand. "This is partially because of the social implications of being Burmese in Thailand," Courtney said, referring to the discrimination against Burmese people in Thailand.
 
One challenge Courtney faced while teaching on the border was language. Her students came from such diverse backgrounds there was no one language suitable to conduct class in. "I can speak enough Burmese to do what I needed to do as a teacher but some of the students, especially the younger kids from Mon or Karen villages, don't know Burmese well," Courtney said. Though these children had learned Burmese in school over the past few years, it wasn't their first language. The kids who knew Burmese best, usually the older children, would translate the class discussion into Mon or Karen. But the translation process didn't stop there. "Some of the kids who were older, maybe the ones over 12, had been in Thai-speaking areas for so long that they could not speak Burmese well anymore. Even though they grew up speaking Burmese, they've assimilated to Thai because they now speak that in school and at home. Sometimes we'd have to translate the class to Thai, too."
 
After various art lessons, Courtney moved on to something a little more technologically advanced: she began her photography workshops. "The good thing about photography is that it's very connected to your physical space. Through photography they could expand what they were expressing," Courtney said. Through her Boren funding Courtney was able to purchase cameras for the students, half of which she left with the students' boarding programs. Every once in a while she'll receive an email with photos her students took since Courtney left the border.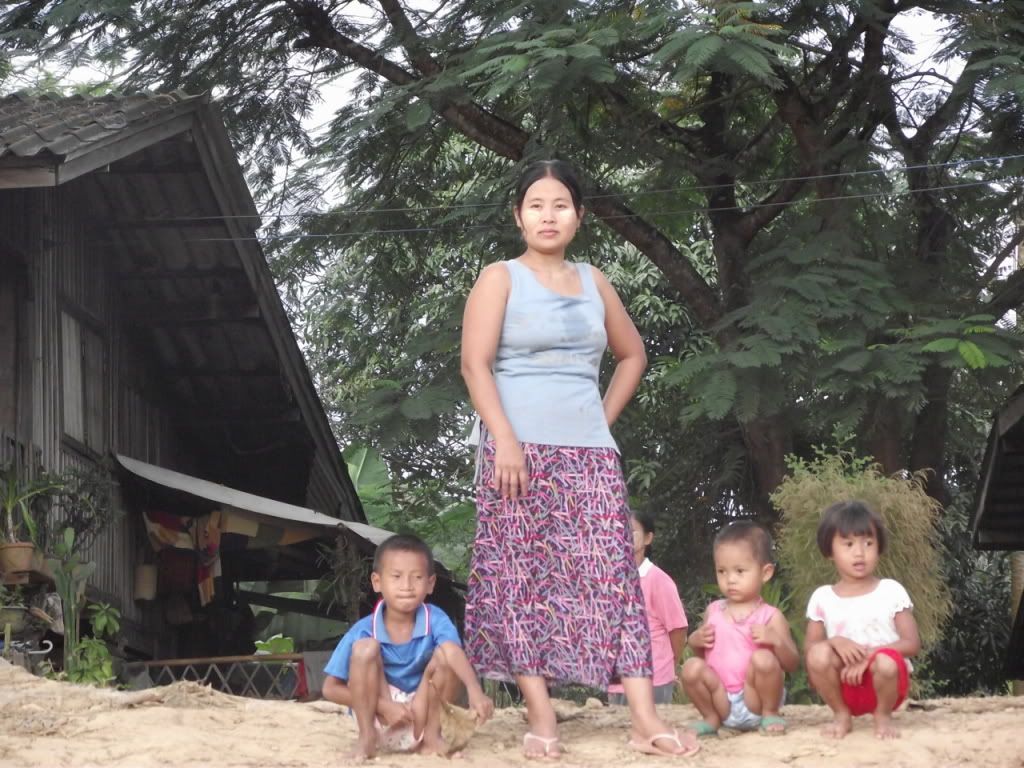 "My Mother"
"This picture is the picture that I like very much because I miss my mother and my house in Burma."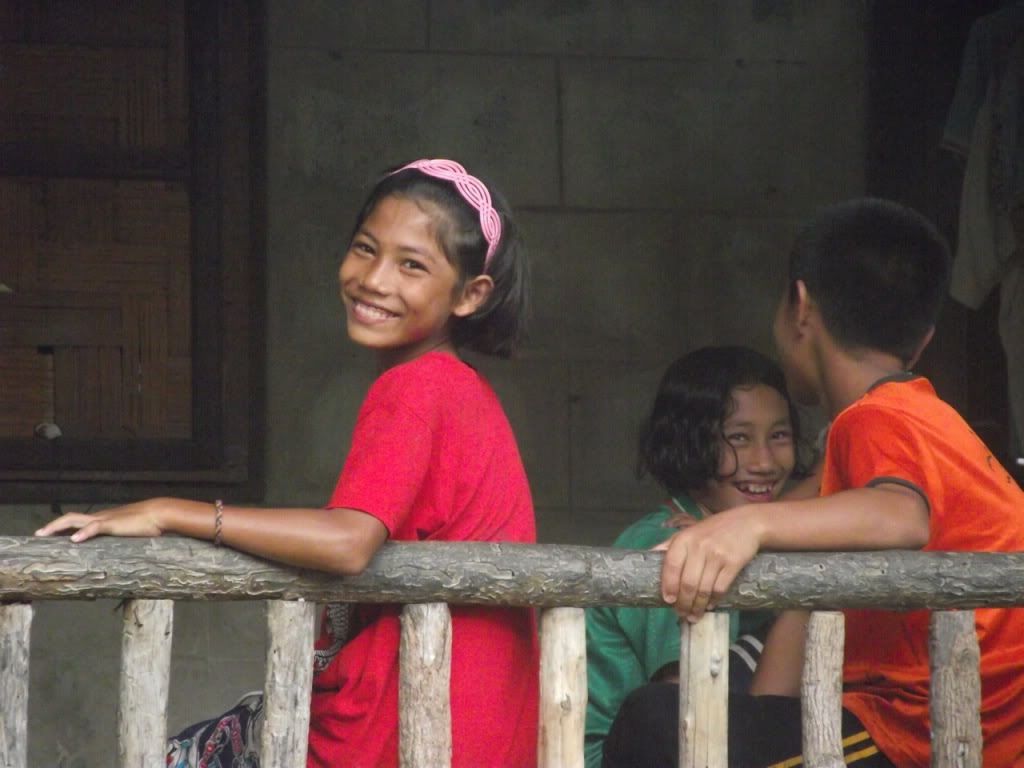 Title and caption omitted for privacy concerns.
 
Courtney's untraditional anthropological research method (obtaining information through art rather than interviews) stems from Courtney's desire to use an organic and innovative way to obtain information from her young students. Unlike being interviewed, making art was not foreign to her students; this meant that Courtney's research methods had already been a part of her students' life. She wasn't creating a false research environment. Plus, unlike the academic papers anthropologists write, art is accessible to many people. Because Courtney's research produced tangible pieces of art, even people who do not read academic papers will have access to voices on the border who aren't heard in mainstream media.
 
While conducting her research Courtney maintained a Tumblr, Borders Photography. Here you can check out her students' artwork as well as read some community interviews Courtney conducted on the border. Check it out!