Five Dorm Makeup Problems (and Five Solutions)
Now that you're a collegiate, you understand that the struggle is real. You're broke, stressed, and over scheduled.
Enter your makeup. Gurus to newbies alike run into issues, no matter what kind of look you're going for. You've spent your hard-earned cash on these beauty products, but now that you're in your dorm, you keep encountering problems. Maybe this is all a metaphor for how your life is crazy (and how much you regret taking 19 credit hours this semester). Usually, it is healthy to acknowledge that we are part of the problem, but this time, your dorm could be the culprit! Here are five makeup problems you have in your dorm and five solutions.
Problem 1: Sh*tty lighting
Everybody knows that the key to a good makeup day is lighting. That contour may seem perfect in your dorm room, but the second you step out into the real world, you're more clown than Kim K. As much as we advocate to rock makeup however you want, there is no denying that this sours your day. Shade matching and blending gets even harder, too. Personally, in my shady dorm, I am upset that my go-to highlighter is just not giving me a glow anymore, and when I finally step outside, I'm a literal glazed donut that can be seen from space. It's frustrating and eats up valuable time.
Solution 1: Add Some Lights to that Mirror
I know, I know. You've heard this a million times before, but honestly, adding a light to your makeup mirror makes such a difference. But aren't college kids broke? Yes, we are, but this is an investment you'll thank me for. If you're already spending all of that money on makeup, spending a little bit on a product that improves the application isn't far-fetched.  Besides, Amazon is full of inexpensive options, and if you're down for it, you can DIY your way to a great makeup day.
Problem 2: No Space!
At home, we had the luxury of solo bathroom time and spacious mirrors, but in a dorm, you would be hated if you hogged the bathroom. Naturally, you've tested some solutions of your own. There's a big mirror in your room, so why not sit on the floor and give that a go? Unfortunately, your roommate has stepped all over you and your makeup multiple times, and you have to scoop everything up before leaving, meaning you're probably throwing fragile powders about. Now that you know that doesn't work, you've shifted to your bed, and you promptly spilled powders, foundations, lipsticks, etc. all over your bedding. Now, you have to do even more laundry. You're already mad that you're awake so early, so you're going a little insane to have to go through all of this effort for a little bit of concealer.
Solution 2: Move it to Your Desk
Who said a desk is only for studying?
It's time to up your makeup game and centralize it to your desk, where you can contour like a professional. This is the perfect place to keep your lit makeup mirror, and you can spread out all of your supplies without creating a big mess. Plus, since it is on your side of the room, you don't have to clean it all up if you're running late to class.
Problem 3: Storage
Dorm rooms are inherently tiny, so when it comes to storage, you have to be crafty. Within the first week of school, tons of girls send things back home when they realize it wasted valuable space. When you're swamped in textbooks, clothes, bedding, toiletries, and other necessities, it is hard to fit makeup in. We may all be in love with that beautiful Morphe palette, but we definitely don't all have the space.
Solution 3: STORAGE!!!
I'm going to call on my trusty sidekick Pinterest here to help me out.
There are so many storage solutions for makeup, and no matter how you live or how you've set up your dorm, there is a solution for you. Maybe add an extra shoe organizer or a bedside caddy to stuff your makeup in. Perhaps, if you're a makeup junkie like me, you can even go for drawers on your desk or beside them. Because I couldn't part with my makeup or my skincare when I moved into my dorm, I even toted a rolling tool box along and slide it between my desk and bed when I'm not using it. (Bonus, if I make a mess while doing my makeup, I can just close the tool box and not have to clean it up!)
Problem 4: Roommate Boundaries
As cool as your roommate seemed at orientation, she doesn't seem so cool now that she's dipped into every palette you own and left a mess in its wake. Even if this is an exaggeration, sharing makeup is a tricky topic. Dorms are a unique experience, especially for freshmen who are facing new challenges every day with their roommate. Whining about your glow kit feels like the least of your worries, but tiny transgressions add up and culminate in explosive exchanges that warrant a talk with your RA.
With something as personal as makeup, of course we can get upset! The germaphobe in all of us blanches at the germs spreading between highlighters and concealers, and definitely don't think about what could be in that mascara tube now that you've both dipped into it. Even if you invited your roommate to use it at the beginning of the semester, it's okay to change your mind.
Solution 4: Communication and Respect
This is the hardest solution of them all. Open communication is hard for all of us, especially with a person we live with, but it is necessary. Nobody wants to spend the rest of the year being passive aggressive with their roommate, so it is worth the uncomfortable conversation. It's a great idea to create a roommate agreement, and it is never too late to make one. Sure, you may be primarily concerned with room cleanliness, don't be afraid to throw some makeup rules in there while you're at it.
Most importantly, be respectful of your roommate and their property. Even if you and your roommate have established that makeup is fair game, be respectful. Yes, they may have offered you their Anastasia Glow Kit, but that doesn't mean you should rifle through her desk to find it and then hog it for the rest of the year. If you are both getting ready, don't automatically move it to your desk and prevent her from using it.
Problem 5: Funds
Funds (and lack thereof) extends to all aspects of life during your collegiate days. College and makeup are both really expensive, and as much as beauty vloggers tell us we need a product, that is something only you can decide. Sometimes, it feels like Sephora is out to get you, and online shopping can make the struggle even worse.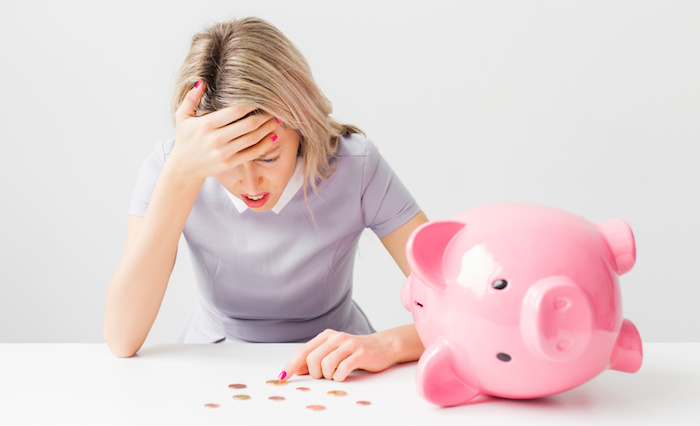 Solution 5: Be Mindful
I know, I know. This seems self-explanatory, but there's more to it than you think. We think we should set a budget and never buy anything frivolous, but that is unrealistic. Sometimes, you need to be a little frivolous, but just try not to do it all the time. Avoid impulse purchases, and evaluate your priorities. Personally, my skin is sensitive, so it is worth it to spend a little more on skincare. Think about what you wear. If you never wear eyeshadow, you probably shouldn't pick up another eyeshadow palette, but you may want to buy a solid setting powder if you're in a constant struggle to stay matte.
Try to avoid temptation. I've spent all weekend watching Youtube videos about Fenty Beauty, and despite having no interest in the brand before now, I'm reconsidering those highlighters and foundations. It might be time to unfollow a few Instagram accounts or unsubscribe from your favorite gurus. You'll be a lot happier about being so broke.