Unless you've been living under a rock for the past year, you know that Clemson Football is pretty much synonymous with Sammy Watkins, the freshman wide receiver who played a large part in leading the Tigers to the Orange Bowl. Highly recruited out of high school, he was rated the #3 best wide receiver prospect in the nation. In addition to breaking 11 Clemson freshman records, Sammy was named the 2011 ACC Rookie of the Year! Talk about a good resumé! Her Campus Clemson was lucky enough to have the opportunity to chat with the all-star athlete about his Clemson experience, from what it's like to be a Clemson student, to what he looks for in a girl. You're welcome, collegiettes!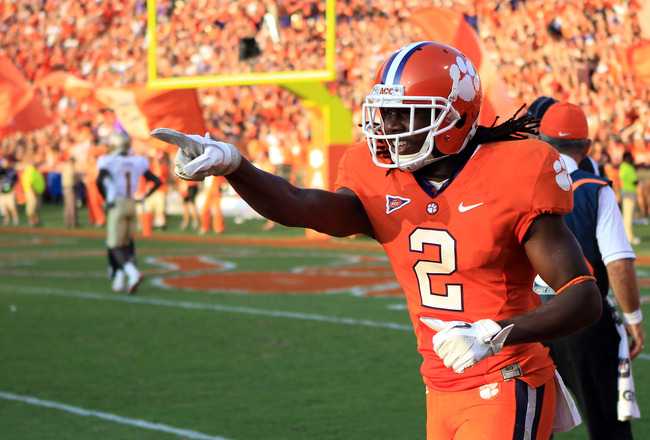 Her Campus Clemson: Tell us a little bit about yourself.
Sammy Watkins: I am from Fort Myers, FL, my birthday is June 14, 1993, and my major is communication studies.
What were some of your reasons for why you chose to come to Clemson?
I chose Clemson because it was a great place and I knew I'd be able to enjoy living here for 4 years to get a good education. Not only that, but Clemson has great coaches and resources to help me become a better young man.
How would you describe your first season as a Clemson Tiger? Have you formed close relationships with your teammates?
My first year at Clemson was tough at first; I had to get acclimated to classes and football. Overall, Clemson has been a great and fun experience with the team, coaches, and fans. My relationship with my teammates is crazy- we're all like brothers and we look out for each other. Since I've been here, all of us just bonded as a whole, and we're still growing closer to each other on and off the field.
How does it feel to be the 2011 ACC Rookie of the Year?
Being the ACC Rookie of the Year is a great accomplishment and it's fun knowing you're the best freshman in the country at what you do. I also worked hard to get where I am, so it feels great to
receive that award and be recognized for it.
What's been your most memorable experience as a Clemson student so far?
My most memorable moment was giving my first speech. I was shaking because I was so scared and could barely even talk or look up at the class. Now, I have mastered talking in front of many people and I even enjoy it.
Do you ever get annoyed by the fact that people recognize you everywhere you go?
Well, at first I used to, but you have to look at it a little differently. This is what being an athlete brings to the table and it's basically your lifestyle now. You have to watch what you do and say for the rest of your life.
Have you had any interesting fan experiences? Could you describe one for us?
Actually, I do! The craziest thing that happened is that I made a little girl actually cry! I thought she was going to pass out! That was definitely the funniest thing that ever happened to me and I was pretty shocked to say the least.
What has been your favorite class at Clemson so far?
My favorite class this year is the EDC234. It's the best class ever because you get to discuss about drugs and have fun and be yourself.
What's your most embarrassing moment so far at Clemson?
Walking into the wrong class and then raise your hand because your name wasn't on the list then you have to get up and leave.
What is your favorite place to eat in Clemson? (on-campus or off-campus)
I would say Beef O' Brady's.
What do you look for in a girl?
I look for a girl to be nice looking, sweet, nice, have a sense of humor, and have a plan in life. They should know what they want to do when they graduate out of college.
What is your idea of a perfect date?
A romantic dinner with a beautiful young lady and the two of us talking about our life and childhood stories and just connecting.
What's one thing about girls that really annoys you?
The girls that think they're better than others and are loud and looking for attention. Also, it bothers me when girls do nothing with their life and live off of their parents.
Photo Sources:
http://www.chicagotribune.com/sports/college/chi-clemsonsacc20111202174558,0,4916258.photo
http://www.orangeandwhite.com/news/2011/dec/13/ncaa-looking-restaurants-use-sammy-watkins-name-pr/
http://bleacherreport.com/articles/923291-clemson-tigers-would-sammy-watkins-be-a-first-round-pick-if-eligible-in-2012
http://www.myorangeupdate.com/2011/09/next-generation-sammy-watkins/sammy-watkins-2/
You Might Also Like...