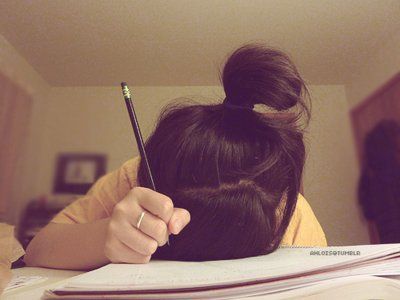 It's finals week and everyone is stressed. It's an awful time to get on your roommate's nerves or make your boyfriend want to slam his head into his text book. I know I tend to always, as my boyfriend puts it, "stir up a fight every time we're both stressed."  It's true unfortunately. When I get stressed I know taking it out on a roommate will end terribly, so the next person I turn to is the guy I know who can handle me at my worst (and best)—my boyfriend. It's a terrible time to fight but we all know it's bound to happen. Here are five tips I have put together that will just make things smoother in your relationship during finals. We don't have time to fight with our men, we need to study!
1. Tone down the flirting
We get it, you both are stressed. The most important thing for a collegiette to remember is that her boyfriend is just as stressed, maybe even more! He has been preparing for this accounting exam for days now and that one journal entry just isn't clicking in his head. You have been studying too and just need some stress relief so you do the typical footsies act under the table. Well his footsies turns into straight denial. Ouch. Don't get upset if he isn't in the mood to be flirting with you. Just breathe and when he looks up to see if you are mad just send him a quick smile and get back to studying! During finals, it's time to tone down the flirting. Your guy will probably not even notice and if he does he won't get upset, he will just want you that much more! So by toning it down, you really cannot go wrong. On the other hand, don't ignore the cutie. He still needs to know you're there for him if he needs a hug. Leave him a cute note on his pillow so when he gets into bed that night you are totally on his mind.
Note: just because the flirting gets toned down doesn't mean some other things (if you know what I mean) should!  Alright, I'll just say it flat out-don't forget about sex!  Click here to read 10 surprising benefits of sex from WebMD which includes it being a great stress reliever!  All collegiettes know about safe sex so don't forget protection.  Did you know Toby Simon (director of the Women's Center on campus) has a bowl of condoms outside of her office?!  They're up for grabs and she encourages people to take them.  Her office is located on the 3rd floor of the Bryant Center.
2. Bottle in those small fights
If you are like me, you are the type of girl who notices ALL the small things—good or bad. You remember that time he walked all the way to the library to give you your tea when you left it in your room. But you also remember the time he made a joke about a scarf you wore so now you never wear it. During the times when he says a rude comment or ticks you off just a tiny bit, don't sweat it like usual. Think about the fights you have with your boyfriend—who usually brings them up? Let's be real, us girls are always right (right?) so it is your boyfriend who lights the fire but you're the one who plays around with it. During finals, stop playing with the fire. Just let those dumb things he does drift over your head and ignore them. I know it's bad to keep things bottled up but by letting small things fall through a crack, both of you won't notice them and within an hour or so you will remember how truly adorable he is and that those small things are just him being a guy. If you do happen to have steam shooting out of your ears, start laughing and say something in a joking way like "wow you're such a guy!!!"
3. Let him have a lot of guy time
Guys love to be guys, and hang out with guys, and do guy stuff, and remind themselves that they are guys. Say that ten times fast. Well, it's true! Take finals week to hang out with your girls. You are all stressed out so popping in a movie or two at night won't hurt a bit. Take a night and head over to Pinkberry in Providence or treat yourself to an Alex and Ani bracelet (P.S. Bryant students get 10% off with their student ID!!!) with your girls. Leave your guy to watch some Celtics and play NBA2K. I know all collegiettes want their boyfriend's stress relief to be them but it's not. Guy's minds don't look at cuddling as a stress relief as much as girl's minds do. Let him have all the guy time he wants—this will result in you two missing each other by the end of the week anyways!
4. No sleepovers
Remember when your mom used to tell you, "Kaitlin isn't sleeping over, it's a school night" ? Well mamma was right. Don't have sleepovers during finals. You both need to catch up on as much sleep as possible, wake up early for a nutritious breakfast, and stay up as late as possible to cram in that last vocabulary word. Plus the cuddling aspect of a sleepover lasts an hour maximum and then you both know your butts get turned towards each other. Have some cuddling time and then both go to your separate beds…the college bed is way too tiny to be trying to get comfortable all night anyhow.
5. You
All of these are tips to satisfy your man during finals, but what about you? Don't forget to satisfy yourself! Go out and get a cheap facial mask and give yourself a facial one night, catch up on your lost episodes of Don't Trust the B in Apartment 23, paint your nails that awesome turquoise you've been eyeing in your roommate's drawer, and last but not least, start packing up your stuff while blasting your favorite playlist. All of these are total stress relievers and will make you feel great about yourself! Don't forget to pay attention to yourself during finals—study hard, eat great, get in a workout or two, and relax. Paying attention to yourself is important in a relationship, and even more important if things in both of your lives are about to get stressful! Once you get home you can throw your feet up in a bubble bath, but until then little stress relievers are the way to go. Good luck studying collegiettes, and remember your boyfriend is stressed too!
You Might Also Like...