My internship this summer was at Jade Marketing Group, a company specializing in junior denim, located in West Hartford, Connecticut. When I first walked into the office, there were jeans literally everywhere; a sight that would make any girls jaw drop straight to the ground. I started working during my spring break, and then continued once school got out for the summer.
Right from the start, I loved being at Jade. Since the company is small, the employees are a close knit family. Everybody was so nice, helpful and incredibly patient with me during my first weeks. The dress code is casual so I got to wear whatever I felt like, from jeans to sun dresses and shorts. Not to mention my boss is awesome and buys lunch every day for the employees. Another serious perk of the job was getting free jeans, which happened to be my exact size. I ended the summer probably will fifteen new pairs of jeans and shorts.
At Jade, all of the jeans are designed in the corporate office then outsourced to the manufacturers in China and Bangladesh. From there, the jeans are sent to our warehouse and then shipped to our customers all over the United States. During my classes in Global CIS and Marketing, we learned the ins and outs of global supply chain management. One day, I had to go to the warehouse to work on a project and once I got there I said to another intern "Oh my God, this stuff actually exists." It was really interesting to see the concepts you learn in a classroom actually happen in the real business world.
Throughout the summer I was sent to our warehouse to do random, yet important projects. A few tasks were taking inventory of old jeans and giveaway promotional items. A huge ongoing project at the warehouse was putting together Jade's new sample room. The new sample room is like a library which holds every style jean ever created by Jade in the past four years. By the end of the two weeks in the sample room I unpacked and hung up over one thousand pairs of jeans. 
During the summer, I worked closely with the design team and marketing team. Although the company is called "Jade Marketing Group" there are several different departments within the company like accounting, production, customer service, graphics and tech. If there is one lesson I learned about clothes this summer, it's to appreciate your jeans. Designers put in so much time and thought into
making their styles perfect. Consumers would be shocked to see all the planning and fine details that go into the fit, wash, buttons, pocket fabric and especially the back pocket design of a single pair of jeans.  With the design team, I was usually assigned to take pictures of products or back pockets and cut color swatches to send to China.
As for the marketing team, one important aspect I helped with was brainstorming ideas for social media. Being the social media expert I am, I couldn't help but throw out as many ideas as I could. In any company that uses social media websites, getting as many 'likes' and 'followers' as possible is one of the ultimate goals. I helped start up Amethyst on Pinterest, even incorporating a "Pin It to Win It" contest. Alyssa, another intern and I, found we were always "Instagramming" pictures from around the office and work, so we decided to create a Facebook album of our job this summer. The album was titled "A Day in the Life of Our Amethyst Interns" which is filled with pictures of the warehouse, jeans, and us around the office.
Another part of the marketing team was constantly updating inventory spreadsheets and weekly selling reports. Whenever Jade would receive new salesman samples for the upcoming season, we have to fold it in the bins and record how many of each style we have on hand. Every week, usually on Monday and Tuesday, we receive selling reports from each of our customers. From there, we can conclude which styles are best sellers for that week. Some other cool parts of my summer at Jade were helping at photo shoots, booking flights and hotels for models, and going to the showroom in New York City.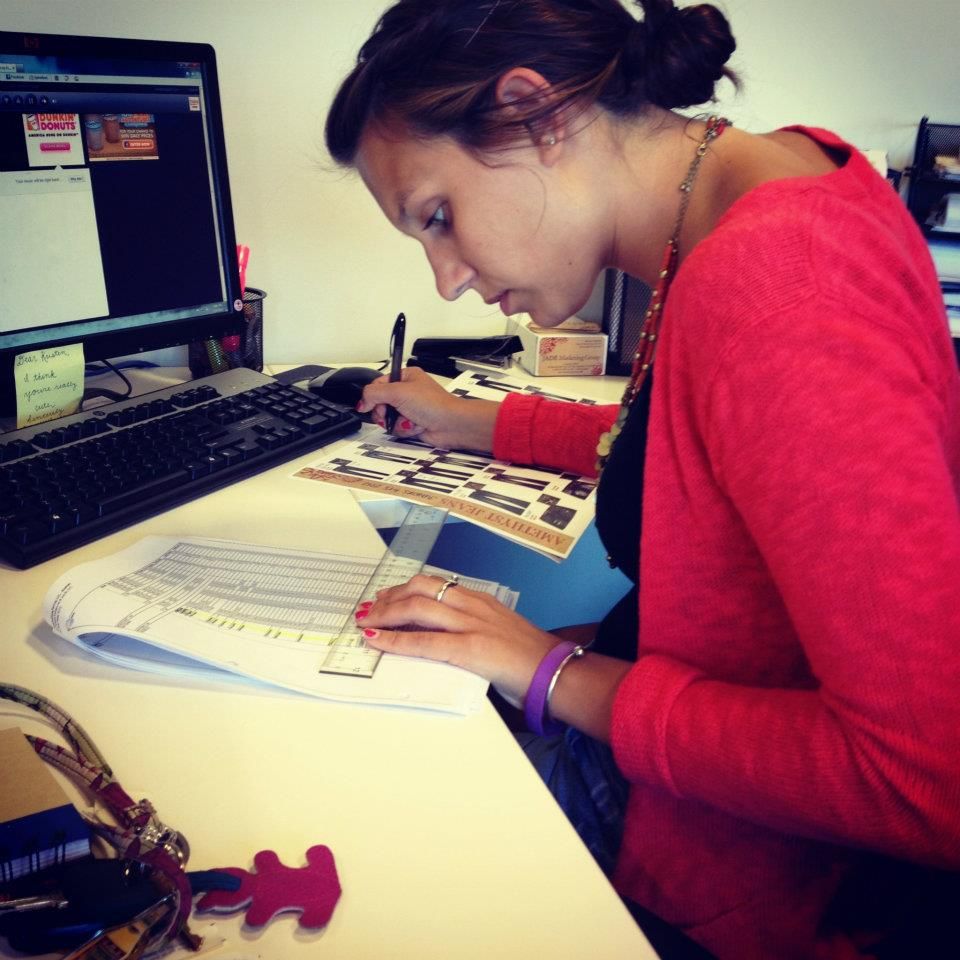 After I found out I got the job, I got in my car and immediately called my best friend. I told her all about the girls who work there and how stylish they were and we both started laughing since my ideal outfit during the summer is usually Soffee shorts, a T-Shirt, J.Crew flip flops and a messy bun. Not even taking a single class in fashion or fashion merchandising, I had no idea what I was getting myself into.
Writing this now at the end of the summer, I can honestly say I had the best summer internship a girl could dream of. Because Bryant is a predominantly male business school, I knew I wanted an internship with a creative outlet. Working at Jade, I got a first-hand experience in most aspects of business, but in an inspired and fun way.
You Might Also Like...