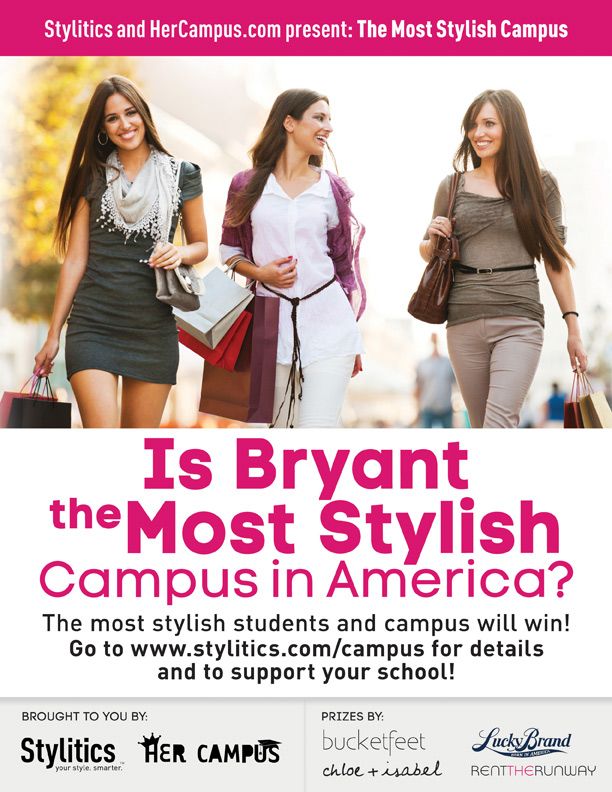 If you are like any of us here at Her Campus Bryant, you LOVE to shop online. The best thing about shopping online is you can do it virtually anywhere. Now there's a site, Stylitics.com, that allows you to personalize your style and put everything you've purchased as well as every item on your wish list in a virtual closet. Stylitics is the premier virtual wardrobe for every fashionista out there – you can plan your outfits without having to go through your real closet!
From now until May 8th, Her Campus has teamed up with Stylitics to discover the 'America's Most Stylish Campus.' All you need to do is create a Style Profile on Stylitics.com and choose Bryant University as the school you attend. Get rewarded with points by sharing your profile on social networking sites like Facebook and Twitter with the hash tag #stylishcampus. Your goal is to try and get as many 'likes' on your profile as possible in order to get points.
The top 50 students with the most points will be featured on the national HerCampus.com site. The winners will receive PRIZE PACKAGE including a piece of fashionable jewelry from Chloe + Isabel and gift cards from Rent the Runway and Starbucks! If Bryant University is deemed as the most stylish campus, we will be featured on HerCampus, and the top 25 students from our school will receive $50 gift card to Lucky Brand Jeans!
May 8th is only a couple days, but even after the contest is over don't hesitate to create a style profile on Stylitics.com and tell your friends about it. You can compile all the top trends, create a wish list of clothes you like to wear, see outfit inspirations from all your personal style icons, plan your outfits, and keep track of your favorite stores and outfits you've worn in the past. Head over to Sylitics and show off your personal style!
You Might Also Like...