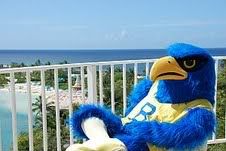 Since before even coming to Bentley we all look forward to the Bahamas trip at the end of Senior Year. However, Commencement Week is so much more than just gallivanting around the Atlantis!
The week begins on Friday, May 11, right after finals, when the seniors will get all dolled up for the Commencement Ball in the Copley area of Boston. After dancing the night away prom-style, the Bentley seniors move back to Trees to prepare for the Bahamas and to end their time at Bentley the same way it started 4 years ago.
From Sunday, May 13 to Thursday, May 17, Bentley hits the Bahamas for a long-standing traditional stay at the Atlantis resort. While staying at the beautiful tropical resort, Bentley seniors will be treated to two cultural fine dining experiences and four nights at the Bahamas' most well-known nightclubs! There is also an optional community service project where Bentley students can interact with Bahamian people and see more of the island. Senior Class President Liz Sisson has been involved in planning the Commencement Week festivities and told us "From what I hear, it's bound to be the best week of our lives thus far."
After returning from the Bahamas, the seniors will prepare for graduation by first attending the Baccalaureate Ceremony on Friday, May 18. Baccalaureate honors the Class of 2012 with speeches from students and faculty as a less-formal gathering before Commencement the next day.
Commencementis on Saturday, May 19 at 10am outside the Dana Center. Seating is on a first-come first-served basis, so if you want to see your friends graduate, it's best to get there early. This year, Larry Lucchino, President/CEO of the Boston Red Sox, will be delivering the Commencement Speech followed by the graduating seniors receiving their diplomas. And, just like that, the Class of 2012 officially becomes alumni of Bentley University.
There's definitely a lot that will be going on over the week, so make sure you stay informed! Liz advises "Read your emails, like Class of 2012 on Facebook (http://www.facebook.com/BentleyU2012), and follow us on Twitter (@Bentleyu2012). There are tons of deadlines and we want all seniors to the get the most out of these final weeks!"