PODS: April 24-May 1 Open 12-5pm
            May 1-May 5 Open 12-7pm
            May 6-May 12 Open 24 hours
 
Swop & Shop:May 1 from 11-5pm on the Greenspace (rain location-Back Bay)
 
The PODS have arrived, which means Give 'N Go is right around the corner. Over the past few years it has been growing and becoming a presence on campus, and something that students look forward to as they try to clean out their junk before move-out day.
 
Give 'N Go was created because our campus had a problem that at the end of the year when students were moving out they were throwing out many good and useful things into the dumpster creating a lot of waste. Elaine Carroll noticed this and formed a committee with Amanda King, the Director of Sustainability, to create a solution. When they created Give 'N Go they hoped that it would become an engrained part of Bentley's culture so that everyone can make donations at the end of the year to benefit the thousands of people less fortunate in the greater community.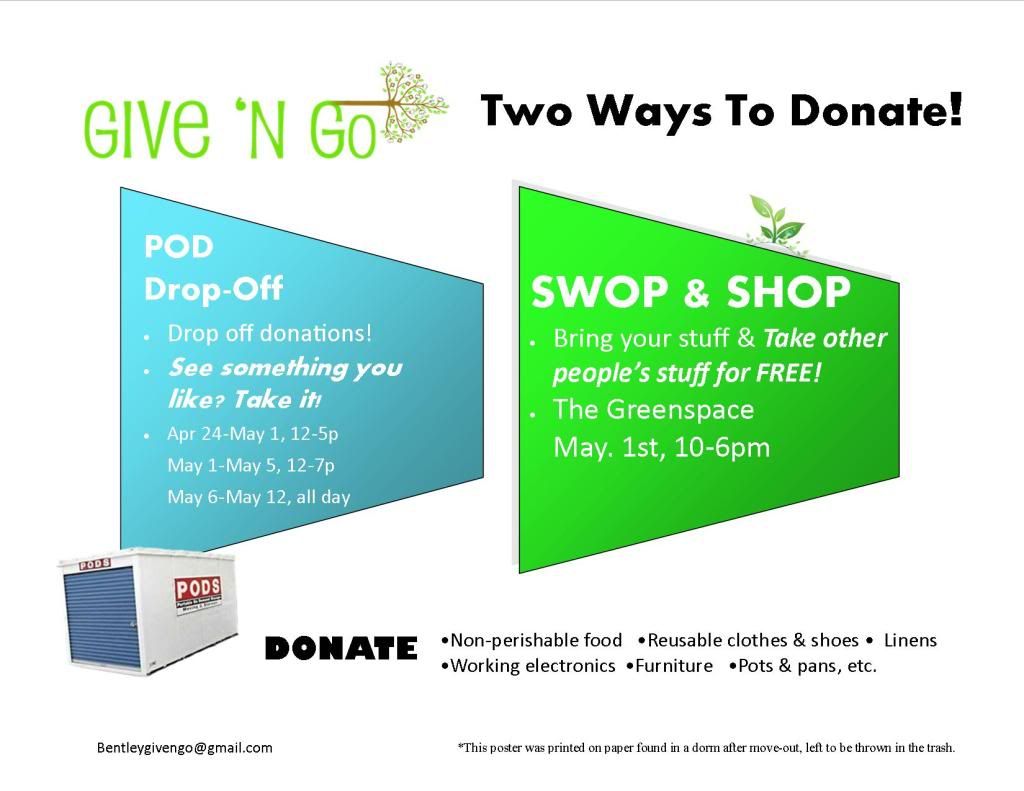 Students can choose to donate and get things in two ways.The PODS will be open every day from April 24 to May 12 from the times listed above. During this time, students can come and drop off donations and take whatever they find. The PODS are located near Copley South, Orchard South, Collins, Trees, Forest/Kresge, and North Campus.
 
On May 1, Give 'N Go will host their Swop & Shop on the Greenspace from 11am to 5pm.During this time, anyone can take one free item and if they donate one item, they can then take as many items as they want. Charles Tiu, a member of Bentley Sustainability, said, "The scheme we apply to Swop and Shop's event is simply to force people to realize that everybody has something that they can donate and they will be rewarded for helping others."  
 
Give 'N Go does benefit everyone overall.Students that donate their things get to clean out their junk and give products a second life instead of throwing them into landfills. They can also get free products saving them money next year and the leftover stuff will be donated to Goodwill to give or sell at a low price to less fortunate people or put through the recycling process.
 
So, before you throw out all that unopened Ramen or your barely used lamp, consider donating them to Bentley's Give 'N Go and give them a second life while helping those in need.