Not exactly.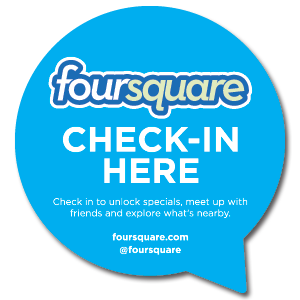 Before joining FourSquare, many people think that the whole concept is just creepy – "Why would I want people to know where I am?" Surprisingly enough, many FourSquare users don't care about knowing where you are at every point of the day. On my iPhone, I turned off the notifications from FourSquare so I don't see anyone's check-ins – I know a lot of other people do this too. It is not necessary to see all of your friends' check-ins, but it is fun to randomly see where your friends have checked-in to. The positives definitely outweigh the negatives – here are some answers about privacy:
If you are not friends with the person, he or she cannot see your check-in! (You can uncheck the box that says "Include me in the public list of people who are currently checked in at a venue.")
Your phone does not automatically check you in – all of your check-ins are voluntary and you may even do a "locked" check-in, which does not allow ANY of your friends to see the check-in either.
If this information makes you feel more comfortable, read on to see the best parts of FourSquare:
Tips: For each place on FourSquare, there are options to make tips! When I was checking-in to Starbucks at Boston University a few months back, I received a tip that told me to get cash at the ATM next door because this location didn't accept credit cards. This was the first time I realized how helpful tips were.
Check-in Specials: Over the summer, I checked-in to a restaurant on Newbury Street. There was a check-in special here, giving me a free smoothie! Lots of restaurants and stores have check-in specials now – random freebies can be very exciting!
Mayorships: If you check-in frequently to the same place, you may end up becoming the "Mayor!" This is a "public office," which means that if someone you are not friends with checks-in, he or she will see that you are the mayor. There are often pretend "fights" to become mayor – for example, Collins Hall has over 3,000 check-ins. Stealing the mayorship of this building can be very difficult, since so many people check-in to it.
Connecting with Friends: It is interesting to see where people check-in – perhaps it's a new restaurant, or a cute boutique near your school! Last semester, my friend Katie decided to get FourSquare. One day, I saw her check-in at the library. I was also in the library and in need of a coffee break, so we decided to meet up in Einstein's. It's pretty cool to meet up with people this way.
 
I hope this article has changed your mind about FourSquare, or has at least helped you see some positive aspects. It is a fun social media tool/game to play with your friends – think of how many mayorship positions you can get at your favorite locations!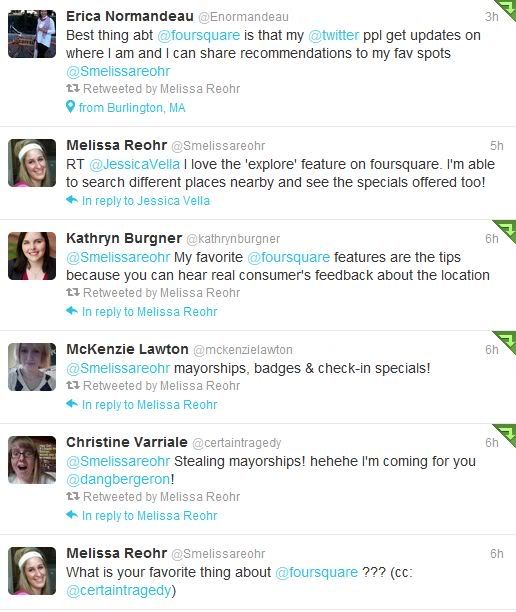 You Might Also Like...