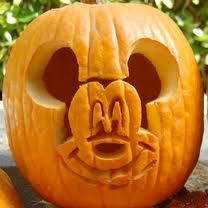 When the fall weather approaches, most girls get excited that it is the season for comfy sweaters, tall boots, scarves, apple picking, and Halloween. What most people forget is that it's also pumpkin carving time and this event is comparable to many as the icing on the cake for the autumnal season! This festive event for Halloween only takes about an hour and it is a wonderful activity to share with your friends.
The first thing you want to do when you pick out a pumpkin is make sure you have at least one flat side on the pumpkin to carve. Once you have picked a side you should carve out the top of the pumpkin. Simply do this by carving around the stem in a circle and removing the top.
Now for the messy part! When you have removed the top of the pumpkin, you must scoop out all of the seeds and the inside of the pumpkin until it is practically bare on the inside. Make sure to not throw away the seeds because you could turn them into a delicious fall snack by sprinkling salt on them and baking them in the oven. Once you have cleaned the inside of the pumpkin it is now time to begin carving.
For most people, thinking of what to carve is the hardest part of the process. It is even considered harder than actually carving the pumpkin! When you start to think about what you should carve, consider what you want your pumpkin to represent. Do you want it to be funny, simple, original, a name, a design, random shapes, or anything else that may cross your mind?
If you are carving it with your family you could carve your last name into the pumpkin if you wanted to get fancy with it. Or if you are with your girlfriends in college carve your room number into the pumpkin. Maybe it is the first year you and your significant other are spending Halloween together. Consider carving something that represents your relationship. These types of pumpkin carvings show a lot of meaning and have significant.
Another idea for carving a pumpkin is to make faces. Halloween is often represented as spooky, but don't feel like you have to make your pumpkin spooky. Haven't you ever heard of Casper the Friendly Ghost? Feel free to make a happy, goofy, or just plain silly face on your pumpkin.
Don't be afraid to stack pumpkins on top of each other. This is creative, and a very simple task. First, have a large base pumpkin for the bottom. You don't even have to carve anything into this pumpkin because it is merely for the base of the body! The next pumpkin should be just a tad bit smaller than the base pumpkin, to represent the body. On this pumpkin you can use your creativity to carve a tie or maybe buttons. The top pumpkin would represent the head. This should be smaller than the middle pumpkin, but not too small for carving to be done. On this pumpkin you can make any facial expression you want your pumpkin to have! 
Another creative pumpkin activity while carving is to make a pumpkin cooler. To do this you simply slice the pumpkin directly in half horizontally and empty out the insides. Once the inside is empty, fill the bottom of the pumpkin with ice and put your refreshments in the inside! This is a great way to add even more festivity while carving your Halloween pumpkin.
There are creative carving ideas for all ages and events. Hurry and go out and get that pumpkin and have a "spooktacular" time!
Image Source:
http://www.southernliving.com/home-garden/holidays-occasions/halloween-p...
 
You Might Also Like...