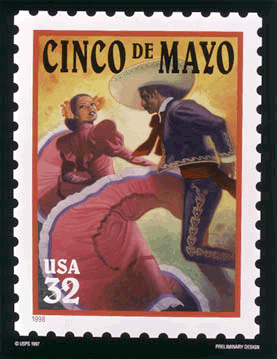 Coming up on the fifth of May marks the Mexican holiday of Cinco de Mayo!  This day historically commemorates Mexico's victory over France in 1862 at the Battle of Puebla during the Franco-Mexican war.  You can rattle off this fact to show how savvy you are with your history of this widely celebrated holiday!  Today, Cinco de Mayo is focused less on the history of the day, but is considered to be a day of celebration for the Mexican culture and heritage. 
So you might be wondering, how should I celebrate Cinco de Mayo and bring out the Mexican spirit in me? Well much like Saint Patrick's Day, Cinco de Mayo is celebrated with parades, carnivals, street fairs, and lots and LOTS of delicious traditional Mexican food!  Throw a Cinco de Mayo get together with your friends and have each person bring a different Mexican dish, here are some great recipes that will be sure to put you in the cultural spirit:
http://homecooking.about.com/library/archive/blcincodemayo.htm
Happy Cinco de Mayo everyone!  Have fun celebrating this awesome day of Mexican tradition and culture, and remember to look up the closest parade to your city for guaranteed day of excitement!