Your Guide to BC Clubs: "Freshmen, please join our ListServ and have a lollipop!"
3. Volunteerism
Best Buddies of Boston College pairs students (college buddies) with individuals who live in the BC area with intellectual disabilities (buddies) to form long-lasting friendships.  Each month, the BC chapter hosts group events for both college buddies and buddies that include activities such as a trip to the aquarium, a Halloween costume party, and a basketball game.  Participants are interviewed before they are matched with a buddy and then meet with their buddy once a week, including the monthly group event.
"Our biggest activity of the year is hosted at BC, and is called BuddyRama.  It brings together colleges in the Boston area with Best Buddies chapters for one big party," says Miguel Londono CSOM'12, president of Best Buddies.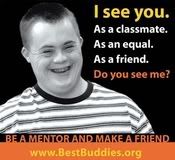 Eagle EMS provides emergency first response medical stand-by and is run completely by students who are all certified EMTs.  The organization provides assistance at BC events, ranging from concerts and football games to dances and recreational figure skating.  New participants are required to be CPR-certified, but don't necessarily need to be EMT certified.  The 150-hour course for EMT certification is offered at BC.  Participants can also join any of the certified EMTs on their shifts as observers.  Uniforms and equipment are provided.
"Personally, I enjoy the people.  We have over 100 team members, and most have similar interests.  As a freshman, most of the friends I've made came from being in this club," says Kevin Wickersham A&S'13, vice-president of Eagle EMS. "In doing this work, I actually changed my major from pre-med to doing this type of work for the rest of my life."
Eagle EMS prepares for emergencies with equipment at hand.
  4. Leadership
GLBTQ Leadership Council works with the Undergraduate Government of Boston College to provide a safe space for GLBTQ students and to put on educational programs and fun activities for all students on campus.  A new participant can expect to become a full member of GLC and will immediately have a whole new group of friends and a great support system to help them through freshman year.
GLC hosts the annual celebration of National Coming Out Week on campus and puts on the GLC Gala, and many more events.  "The perks include being an awesome person, free Support Love swag and much more," says Joshua Tingley A&S'12, vice-president of GLC.  GLC welcomes everyone with any life experiences.
The Student Organization Funding Committee provides registered student organizations with an equitable system of funding to give each organization the opportunity to provide BC with a wide array of activities.  "SOFC is a great way to learn and help impact the vibrancy on Boston College's campus," Jeffery White CSOM'12 says.  
Applicants must interview and submit a resume.  Each participant not only gains incredible budgeting experience, but also a unique perspective of student life on campus.  A new participant can expect to be directly responsible for about eight BC clubs, as well as vote for and offer advice on all funding decisions for the registered student organizations SOFC covers.  Each applicant must be hard-working, team-oriented, have an open mind, and be able to critically think through complex problems.