Our survey to find out who "The Real BC Girl" was let us in on a statistic we already knew – we REALLY like Chobani Greek Yogurt.   So how about try some of these delicious recipes to spice up your afternoon treat!
 
PEANUT BUTTER AND BANANA PARFAIT
INGREDIENTS
- 1 cup chopped banana
- ½ cup granola
- 1-2 tbsp peanut butter
- 1 cup Vanilla Chobani Greek Yogurt
- Optional: ¼ cup chocolate chips
 
PREPARATION
Combine all ingredients well in a bowl. Enjoy!
 
 
BANANA FROCHO POP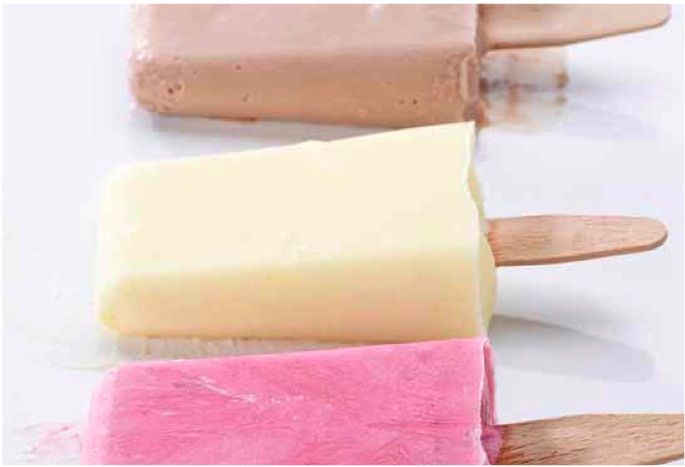 INGREDIENTS
- 1 cup chopped banana
- 1 cup Vanilla Chobani Greek Yogurt
- 1 tsp lemon juice
- 3-5 tbsp honey, depending on sweetness preferred
 
PREPARATION
1. Puree fruit, Chobani, lemon juice, and honey in a food processor until smooth.
2. Divide the mixture among freezer-pop molds, stopping about 1 inch from the top. Insert the sticks and freeze until completely firm, about 6 hours.
3. Dip the molds briefly in hot water before unmolding.
4. If you don't have molds, a small paper cup with plastic wrap over the top and a popsicle stick in center will work too.
 
NUTRITION INFORMATION (per serving):
Calories 92, Fat 0 g, Saturated Fat 0 g, Trans Fat 0 g, Cholesterol 0g, Sodium 17 mg, Carbohydrate 20 g, Fiber 1 g, Sugar 16 g, Protein 4 g
 
PEANUT BUTTER SMOOTHIE
INGREDIENTS
- 1 cup (8oz) Vanilla Chobani Greek Yogurt
- 1 frozen banana
- 2 tbsp smooth peanut butter
 
PREPARATION
Place all ingredients in blender and blend until smooth.
 
NUTRITION INFORMATION (per serving):
Calories 453, Fat 17 g, Saturated Fat 4 g, Trans Fat 0 g, Cholesterol 0 g, Sodium 248 mg, Carbohydrate 51 g, Fiber 5 g, Sugar 35 g, Protein 31 g
 
CHOatmeal
INGREDIENTS
- 1 cup steel-cut oats
- 1/4 cup, plus 2 tbsp Plain Chobani Greek Yogurt
- 1/2 cup fresh or dried fruit
- 1/2 cup chopped nuts
- Maple syrup or brown sugar optional
 
PREPARATION
1. Combine oats, Chobani, and 2 cups water in a bowl.  Cover tightly and soak overnight at room temperature.
2. Place soaked oats and any remaining liquid in pot over medium heat. 
3. Add ½ cup water and cook, stirring regularly, for 7 to 10 minutes.  If necessary, add up to ½ cup additional water until desired consistency. 
4. Divide among bowls and add fruit, nuts, remaining Chobani, and optional sweetener.
 
NUTRITION INFORMATION (per serving):
Calories 236, Fat 11 g, Saturated Fat 1 g, Trans Fat 0 g, Cholesterol 0 mg, Sodium 43 mg, Carbohydrate 29 g, Fiber 5 g, Sugar 9 g, Protein 7 g
 
NUTELLA GREEK YOGURT DIP
INGREDIENTS
-1/2 cup vanilla Greek yogurt (I used Chobani)
-2 tbsp Nutella
-1/4 tbsp cinnamon
 
PREPARATION
Combine all ingredients well in a bowl. Serve with fruit slices such as apples, bananas, strawberries, etc.
 
YOGURT COVERED BLUEBERRIES
INGREDIENTS        
- Blueberries
- Any flavor Chobani
 
PREPARATION
Take a toothpick and poke it into the top of the blueberry.  Dip blueberry into yogurt to cover.  Use a second toothpick to push yogurt covered blueberry onto a cookie sheet. Freeze until firm and enjoy.
 
Picture Sources:
http://www.chobanikitchen.com/
http://www.purplecarrotkc.com/2011/03/ceramic-knifes-chobani-breakfast.html
http://www.chewonthisorthat.com/?p=1465
You Might Also Like...