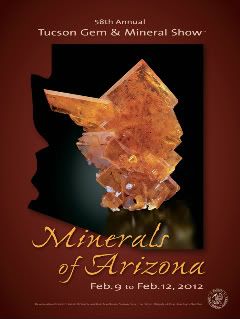 Limited to the fashion confines of the various malls around Tucson or the shops sprinkled around University, unique pieces are often hard to come by.  Especially for girls, a room full of fabulous jewelry would be a dream come true. Dreamers, this one's for you.
The Tucson Annual Gem and Mineral show is making its way back to Tucson for it's 58th consecutive year. Protecting its title of the largest gem and mineral show in the United States, this year's show will bring out the true treasure-seeker in you. With over 250 retailers in the show, the selection is endless and appeals to everyone's interests. Attention boys, with Valentines Day coming up, the show provides the perfect opportunity to pick up a special something for your girls. Remember, diamonds are a girl's best friend…and can score major points.
The university of Arizona will also be taking a special part within the exhibit. The Society of Earth and Sciences department of the university will be presenting educational information about the natural gems and minerals within the show. Also, the proceeds from the show will be going towards supporting mineral knowledge within Tucson.
The Gem and Mineral Show will be held from February 9th-12th at the Tucson Convention Center. Tickets are currently on sale at the Tucson Convention Center ticket outlets or online at ticketmaster.com. The show schedule can also be found online at www.tgms.org/2012showinfo.
Happy Hunting!