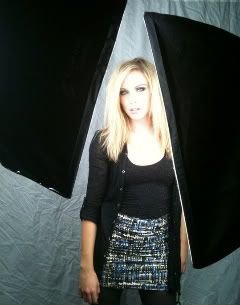 Jordan Marques
Year: Senior
Major: Fine Arts/ Dance and Business Administration focused in Economics
Hometown: Tucson, Ariz.
 
 
When Jordan Marques walks into a room it's hard to not feel intimated. Golden blond hair, high-perched cheekbones, and icy blue eyes exemplify classic beauty that is hard to ignore. One might stereotype Marques as simply a pretty face but the moment she begins to speak, the hollow beauty mold shatters with every word. Marques was accepted into the elite dance program at University of Arizona before her freshman year of college. The lifelong passion she found in dance is now transferring into areas that one does not commonly associate with ballet slippers. Business administration and specifically economics have taken a hold of the heart of this dancer and pushed her to apply for an internship in Arizona Governor, Jan Brewer's office. Despite the flood of over 200 applications, Marques was one of three students to be chosen for this competitive position. There are few occurrences that can make a senior on schedule to graduate, push back their graduation date by an entire semester and move to the city of their biggest school rival, this is one of those rare occurrences.
 
HC: What exactly does your internship at the Governor's office entail?
Marques: What they've described is that we will be the eyes and ears of the governor for all of the committee meetings, hearings, and anything else of that nature. We're taking notes and summarizing a lot of things that she may not be able to attend. We're also going to be summarizing and editing our own bills. I'll be working alongside two other interns. Despite applications from all of the state schools Northern Arizona University, Arizona State University and University of Arizona, all three of us were chosen from UA.
 
HC: What made you want to apply?
Marques: I heard about the opportunity through my advisor. It wasn't major specific, which really appealed to me. I've always had an interest in government and the inner workings, that's where I see myself going someday with my career. I couldn't imagine not applying for it. There are actually three programs throughout the internship that you could apply for. They include the legislature, Supreme Court, and the governor's office. I received follow up interviews from both the legislature and the governor's office. Before hearing back from either I knew that I had to make a concrete decision about which position I really wanted. I decided that I wanted the governor's office internship or none at all.
 
HC: Do you feel it will be worth it to put your senior year on hold?
Marques: Yes, fully. I am not only getting the unique experience of working at a governor's office but I have the privilege of working with Jan Brewer. I feel completely aligned with the positions of her office. To me, she's not just an Arizona Governor but also a very public figure with impact on national issues.
 
HC: What are your plans when you graduate and have they changed in receiving this internship?
Marques: They have changed completely. I thought I wanted to go the dance route for the longest time. I've had two separate paths throughout college, dance and economics/business. I have always wanted to fulfill my dreams of becoming a professional dancer but now I've found a passion in economics and when I graduate I plan to go to law school and become a lawyer. One is not better than the other but one may be more realistic than the other.  I guess I'll decide through this internship where exactly I want it to take me and if government is in my future, regardless, nothing is set in stone.
 
HC: Being from Tucson, what made you choose UA?
Marques: Growing up in Tucson I had the idea that I wanted to get out of here as soon as I could. I auditioned for the dance program at UA on a whim knowing how prestigious it was and kind of tried out for fun. When I got the call that I was accepted, I couldn't pass up the opportunity. At the time I knew that I wanted to do dance for as long as I possibly could.  In the course of the first couple years here at UA I picked up other majors and saw my dreams and aspirations transforming into something else. I'm finding that the love I had for dance can also be transferred into other passions. Choosing UA was strongly because of dance but it didn't hurt that I grew up with a family of die-hard Wildcat fans. My parents couldn't imagine me going anywhere else, especially not ASU and are even a little upset I'll be living in Phoenix for the next semester.
 
HC: What has been your most memorable experience at UA thus far?
Marques: That's a really hard question, there are so many.
HC: This year?
Marques: My most memorable moment this year is honestly the moment that I walked into the governor's office. I'd imagined what it could look like in my head and it was everything more. The Capitol building in Phoenix, Ariz. have a lot of security guards on the ground level that pat you down and everything looks a little worn. There's an elevator that takes you up to the governor's office and when the doors opened I saw the classiest, most elegant floor that I could have possibly imagined. My goals were finally leading toward the same thing. When those elevator doors open I couldn't help but think this is a possibility for my life, my career and a stepping-stone for what I want to do.
 
HC: Who is your idol and why?
Marques: Can it be two people? I know that this sounds cliché but it really is my parents. They both came from very small means within their families. Neither of my parents went to college and yet they showed me that through motivation and drive, anything is possible. They were married right out high school and in the first years of their marriage started a business together. Through the hard times they have persevered and taught me the value in hard work, family, and that you truly can do anything you set your mind to. They created a life that was never imaginable for themselves and for their kids and I respect that so much.
 
HC: Tell us something we wouldn't know about you?
Marques: I lived in L.A for a few months following freshman year of college. Through an audition with my dance agency I got chosen as one of the back up dancers for the Swedish pop group ABBA (who sings Dancing Queen) at the Hollywood Bowl. We were dancing on tiny platforms in full on 70's disco attire in front of nearly 18,000 people, the biggest audience I've ever performed for. It was one of the weirdest and scariest experiences of my life.
 
HC: Advice to your peers?
Marques: In simple words, stay true to yourself and your beliefs.
 
Anyone who dances alongside ABBA is a celebrity in my book but Marques is so much more. She carries herself with a confidence that cannot be taught and has the knowledge to hold her own in any conversation. Successful politicians, all different, have one unison quality; they have a way of making you want to believe in them. Jordan Marques may or may not be a driving force in our political system one day but whether she's a professional dancer, a lawyer, or the next governor, she believes in herself and impresses that same belief in others. As one of the newest interns for Jan Brewer and the state of Arizona, Marques is undoubtedly a HerCampus Campus Celebrity and a force to be reckoned with. 
You Might Also Like...