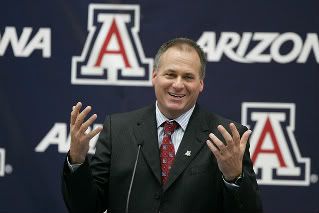 Two things happened on November 22, 2011, I turned 21, got legally hammered and survived, and Arizona announced their new football coach—clearly a day of success. I would love to sit here and regale the many tales of what my roommate likes to refer to as doomsday. (A.K.A my birthday), but alcohol has hindered my memory. So I guess I'll just talk about the second coolest thing that happened that day, Arizona hiring Rich Rodriguez.
            The 48-year-old West Virginia alum and his family are the dirty T's newest wildcats Rodriguez, who has also coached at Michigan from 2008 to 2011 really made a name for himself in D1 football when he was the head coach at West Virginia. During his time there he led the Mountaineers to be Big East Champs in 2003, 2004, 2005, and 2007 and also won two BCS Bowls over Oklahoma and Georgia. Recently, Rodriguez has been a football commentator taking a short break from coaching.
            "Im eager to get back to coaching and look forward to becoming of the Arizona family," Rodriguez said on Tuesday during a press conference in McKale "It's a great individual opportunity for me and I believe that outstanding success is on the horizon for Arizona football"
            The 5-year, $9.55 million contract may be apart of why Rod is eager to join the family. Alongside with his incentives of $150,000 for an appearance in a BCS championship or $100,000 to make it to another bowl game Dude must be legit getting paid the big bucks to come here When he leaves UA he's going to be a millionaire. When I leave I'll be broke and looking for a rich husband; wish me luck.
            With a new coach in town the face and style of Arizona football is going to change drastically. Rodriguez is known for his use in a no huddle, fast paced, spread offense. With that being said, it's been a long time since Matt Scott has taken his place in the shadows of Nick Foles, but with the new coach being hired, Scott is now a hot topic. People seem to be under the impression that Scott and Rodriguez will be the new dynamic duo alongside those such as Batman and Robin, Pauly D and Vinny, and my personal favorite, Fred and George Weasley. Unlike Nick Foles who, while running seems to be going backwards, in slow motion, through sand, Matt Scott has wheels for days. I'm not trying to be mean to Nick Foles, dude has an arm of gold and the hair of an angel, but goodness I have seen inanimate objects run faster than him.
            Anyways, with the use of Rodriguez's spread offense, Matt Scott may finally be able to capitalize on his ability to both throw the ball and run it. A spread offense allows offensive linebackers to better protect the quarterback while also spreading out more receivers on the field. More targets, better protection, and room to run the ball for a first down gives our speedy QB opportunity to work.
            While Scott seems to be the obvious choice for Rodriguez's new best friend, I mean starting quarterback, the new coach is stressing the fact that each player is starting from scratch. "Everybody's going to get a chance to prove themselves," Rodriguez said. "It doesn't matter where they are on the depth chart, you start all over again." It's the dawn of a new era wildcats, but even though we have a new coach some things really never change. And when I say that I mean I'm a half hour late for work…typical. Bear Down Cats and I hope you all have better time management than yours truly.
You Might Also Like...