Greek yogurt… enough said.  If you haven't jumped on this bandwagon, now is the time!  Nutritionists and dieticians alike are in love with Greek yogurt.  With roughly double the amount of protein as regular yogurt, and low sugar content, this delicious treat is a 'must' in every healthy diet. 
 
One of the best qualities of Greek yogurt is its versatility.  You can substitute sour cream or cream cheese with Greek yogurt for a healthier option, or simply eat it plain.  Try some of these delicious, and super easy-to-make snacks made with Greek yogurt….
 
Instant Pumpkin Pie
½ to 1 cup of plain Greek yogurt (However much you desire….)
2 tbsp. pumpkin butter
Dash of cinnamon
2-4 graham cracker squares, any variety
 
Mix the Greek yogurt, pumpkin butter, and cinnamon together. Crush up some graham crackers and sprinkle on top.  Done!  This recipe is the perfect individual serving size that will satisfy those pie cravings, but you won't feel guilty afterwards! If pumpkin pie doesn't strike your fancy, swap the pumpkin butter with your favorite flavor of jam or preserves.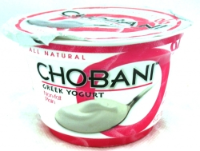 Yogurt Drops
1 cup of your favorite flavor of Greek yogurt (Yes, that's the only ingredient!)
 
Spoon the yogurt into a sandwich bag. Cut a small hole in the tip of the bag and squeeze small, dime-sized drops of yogurt onto a non-stick baking sheet or wax paper.  Freeze the drops until firm. A handful of these creamy, bite-sized yogurt drops are a cool treat that is perfect for summer. Plus, they are a yummy and healthy option for those sugar cravings.
 
Fiesta Dip
1 cup plain Greek yogurt
½ cup salsa
½ cup shredded cheese (optional)
Additional seasonings and herbs
 
Simply combine the Greek yogurt, salsa, and cheese.  I like adding the cheese to make it a bit creamier and richer.  Plus, because this dip is made with Greek yogurt instead of sour cream or cream cheese, you can afford the few extra calories from the shredded cheese. For extra flavor, add diced jalapenos, green onions, cilantro, or even black beans!  Serve this up with whole grain tortilla chips for a delicious and savory snack.
 
The possibilities are endless with Greek yogurt.  I eat it in a variety of ways multiple times per day.  Before you know it, you'll be addicted too!  Go Greek! (Your yogurt, anyway….)
You Might Also Like...